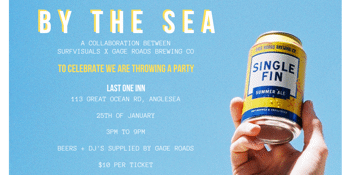 SurfVisuals presents
By The Sea
with Gage Roads Brewing Co
Last One Inn (Anglesea, VIC)
Saturday, 25 January 2020 3:00 PM
By The Sea
An eclectic and respected group of creative individuals from the Surf Coast of Victoria, are brought together to enjoy a day, "By The Sea", to celebrate the place they love most. The Sea.
Over the course of a day, we adventured down the Great Ocean Road to discover the natural beauty of the coast, as well as being able to have in depth conversations with all legends involved.
To celebrate this series, we are holding a party at Last One Inn, in Anglesea on the 25th of January. Hosted by SurfVisuals, with drinks and dj's supplied by Gage Roads Brewing Co, you will indulge in a lifestyle that we all dream of, "By The Sea".
Known for its infamous disco deck, Last One Inn will be fully stocked with a range of beers from Gage Roads Brewing, including Single Fin, All Day XPA, and Hello Sunshine Cider.
There will be a small menu of food, as well as the perfect mix of cocktails and wines supplied by Last One Inn.
Tickets are $10 + bf and we are excited to have you all join us on the 25th January to celebrate this campaign, "By The Sea".
Strictly 18+ and need I.D. to gain entry.
See more of the series at
www.surfvisuals.com