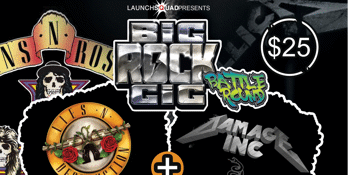 The Launch Squad
BIG ROCK GIG - BATTLE ROUND #2
Guns N' Roses & Metallica Classic Albums - Double Header
Miranda Hotel (Miranda, NSW)
Saturday, 19 October 2019 8:30 PM
Appetite For Destruction and Black Album Played IN FULL.
Authentically recreated by two of Australia's ultimate tribute bands.

Lies N' Destruction and Damage Inc, will be joining forces to melt faces in an event that will revisit the hedonistic, rock star days of the 90s.

Lies N' Destruction will be bringing you the swagger and booze fuelled classic songs from Guns N' Roses, their debut album Appetite For Destruction played in chronological order Front to Back, beginning with Welcome To The Jungle and closing with fan favourite Rocket Queen, with Sweet Child O Mine, Paradise City and all of your favourites from rocks best tucked in there, just how you remember them.
Whilst Sydney mainstays, Damage Inc who have been stampeding venues for years will leave you ears bleeding with Metallica's Black Album played in reverse order, Back to Front, starting with The Struggle Within and ending with the ground breaking Enter Sandman, and everything in between, Nothing Else Matters, Wherever I May Roam, Sad But True and more.
However there is more to come, as Lies N' Destruction will take to the stage and close out the night with all of your favourite tracks from Guns N' Roses Use You Illusion Double Album.
This is a night of pure rock n roll debauchery which is NOT to be missed, tickets on sale NOW!!