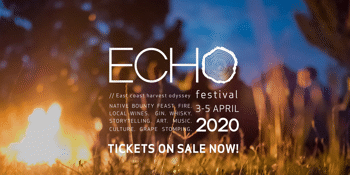 Rescheduled - Echo Festival 2021
Gala Mill (Cranbrook, TAS)
Fri 26 - Sun 28 March 2021 4:00 pm
Dear beautiful ECHO supporters,

It's with great sadness that we've had to bring ECHO Festival 2020 to a holt due to COVID-19.
At less than three weeks out we feel the social responsibility regarding the health of everyone. We are incredibly sorry.

We now will look forwards to the 2021 event and know that we will come back stronger and as enthusiastic as ever - bigger and better.
The program will be pretty much the same – with some bonus extras!

From here you have two choices:

• Hang onto your tickets for next year. The ultimate early bird!
• Request a refund from Oztix before 07/04/2020

Refund requests should be sent to info@oztix.com.au, along with your ticket order number.

Thank you all so much for your much appreciated support and please, everyone take care and take care of one another in these crazy times.
Hopefully as a united world we will learn some good lessons from this global situation and we will soon be able to catch up with some amazing stories to share – stories that make us laugh, cry and roar – stories of bravery, compassion and triumph!

See you over 26-28th March 2021!

With love,
Ange & ECHO Festival xx
ECHO : East Coast Harvest Odyssey is a celebration of harvest through history - a festival of the senses.

Set by the banks of the idyllic Swan River alongside the Gala Mill in the rural hamlet of Cranbrook on the East Coast of Tasmania, the East Coast Harvest Odyssey will take place from Friday 3rd April from 4pm through 11am Sunday 5th April 2020.
The festival is a uniquely immersive experience that offers guests the opportunity to connect with nature in the amber glow of the Tasmanian Autumn. Showcasing fine local wines, spirits and produce, the Chef's Native Bounty Feast will delight guests with local shellfish and sumptuous bush foods, cooked on the open coals. Other tasty food options will be available on site throughout the weekend.
ECHO responds to the rural, Indigenous, colonial and French heritage of regional East Coast Tasmania.
Known for its striking beaches, food and wine, and breathtaking views, East Coast Tasmania is more than that... it is a place of stories, encounters and treasures.

We look forward to welcoming you to ECHO.

https://www.echofestival.com.au/