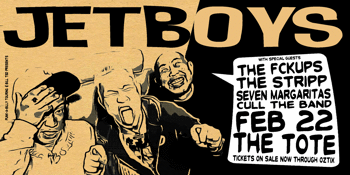 Punk-A-Billy Touring presents
Jetboys (Japan)
with The Fckups, The Stripp, Seven Margaritas
The Tote - Band Room (Collingwood, VIC)
Saturday, 22 February 2020 8:00 PM
After the cancellation of their Melbourne and Adelaide shows in November, seminal Japanese punk band JETBOYS have stuck to their promise and are returning to Australia in February for a whirlwind tour.

Formed in the late 80's, Jetboys are veteran rockers whose shows are never short of wild antics, high adrenaline and fast paced tunes. Part of the same scene that gave birth to The 5.6.7.8's and Guitar Wolf, Jetboys are a mainstay of the Tokyo jet rock scene.

Don't miss them on February 22 at The Tote, Melbourne, with special guests The Fckups, The Stripp and Seven Margaritas.

"Jetboys!…The best band I've seen this year"
- Some guy pointing at my t-shirt in Coles.