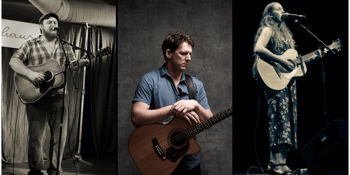 Two Oaks Cafe
Songwriters Night With Van Walker, Clinton Hutton & Amy Pegg
Two Oaks Cafe (Somerset, TAS)
Saturday, 21 March 2020 6:00 pm
Two Oaks Cafe proudly presents Songwriters Night. A night where three creative performers come together in the one room to share stories and inspiration behind their music.
Featuring former NW Coaster now Nationally renown musician Van Walker and local acts Clinton Hutton and Amy Pegg.
VAN WALKER
N/W Tasmanian musician Van Walker's prolific songwriting productivity has seen him become a 'cult figure locally' in his adopted Melbourne, having written over 500 songs across many genres, realising 6 full length albums between 2008 & 2010, a selection of which the Fuse Music Group realised in 2012 on the Underneath the Radar compilation, which met with national critical acclaim, prompting Beat Magazine to quip: "If Bob Dylan was born 20 years later and grew up fraternising in Collingwood bars, he would sound like this," and Mess & Noise to state, "Literary vigour and scathing social commentary, if there is any justice in this world, Underneath the Radar will provoke a radical awareness & appreciation of Van Walker's songwriting talents."
Since then Van has been busy touring interstate and overseas, writing and releasing two albums with the powerpop outfit The Livingstone Daisies (2013, PBS Album of the Year) (2014. 4.5 Stars AGE EG) with Liz Stringer, his brother Callan, and Michael Barclay (Paul Kelly), recording the rocknroll album Heartbrokers with Jeff Lang, Ezra Lee & Ash Davies ("boogie par excellence"); forming the three piece blues-boogie outfit Goatpiss Gasoline; while also writing and performing as a member of the critically acclaimed Vandemonian Lags stage production with Mick Thomas, Tim Rogers, Brian Nankervis and a host of others.
This year sees Van release his first solo album in ten years,
Ghosting (Green South Records),
and the first single
Spirit World
, with an intesnive national tour which will take him around the country to places old and new with "the best bunch of songs I've ever written!"
CLINTON HUTTON
Clinton Hutton is a singer-guitarist-songwriter-producer from Tasmania, Australia.
Clinton has built up a strong reputation throughout Tasmania over a number of years for being an energetic and engaging entertainer.
He is a founding member of popular act "The Doctors Rocksters" which travelled the country extensively for a number of years playing festivals, functions and pubs and clubs.
In recent years, Clinton has turned his attention to focussing more on his solo career. He has released a number of singles in which he composed and produced from his home studio. One of his compositions "The West Coast" which was written for the West Coast Branding team as part of a campaign to attract visitors into the West Coast area of Tasmania was a huge success and has since become an anthem for the region.
Clinton continues to be constantly on the road performing and is still a regular and popular face on the Tasmanian music scene.
In a live situation, Clinton has developed a unique way of using a few effects pedals and a Loopstation to sound much larger and more like a band. He takes live looping to another level!
AMY PEGG
Amy Pegg is a Launceston based singer-songwriter commuting between her previous hometown on the north-west coast. Her music ranges and blends elements of pop, country, blues and folk, with heartfelt lyrics, portraying stories of personal experiences.
Amy Pegg began playing guitar when she was 8 years old, then combined it with vocals and performing when she was 12. Amy grew up inspired by artists her Father admired such as, The Doors, Fleetwood Mac and Tom Petty and The Heartbreakers. Amy went on to also admire artists such as Taylor Swift, The Veronicas and Kelly Clarkson.
Ever since her first solo performance in 2007, Amy has loved performing at gigs at venues such as Southern Wild Distillery, The Chapel and Renaessance on the north-west and more recently, Club 54, Festivale, Red Brick Road Ciderhouse and Kingway Bar in Launceston.
Amy began writing her own material in late 2014 and has been writing songs with strong stories, full of emotion since. Amy composed her song, Out of my League in 2015, and recorded the song as her debut single in 2017. Amy is currently recording an EP with many more songs to share.