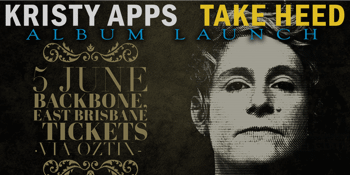 Take Heed Album Launch
Backbone Youth Arts (East Brisbane, QLD)
Saturday, 5 June 2021 7:30 pm
The long-awaited 6th studio release from local Brisbane artist Kristy Apps is finally here and to celebrate she will be putting on one heck of a launch party on June 05 at Backbone East Brisbane.
Recorded with Jeff Lovejoy, this record explores sounds and themes that have been left somewhat unturned for Kristy, making this her most exciting record to date. Together with her stellar band; Ruth Gardner, Geoff Green, Brendan Watterson and Tobias Broughton and featuring backing vocals from Roz Pappalardo and Lucinda Shaw, Take Heed was born.
Come and join in the celebration at Backbone East Brisbane, with special guests to be announced. Doors open at 7:30 Tix $30 +bf.