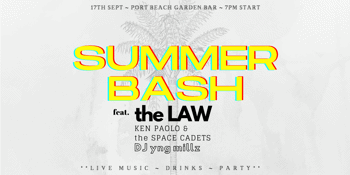 End Of Summer Party ft. The Law
with special guests Ken Paolo & The Space Cadets + DJ Yng Mill
Port Beach Garden Bar (North Fremantle, WA)
Friday, 7 January 2022 7:00 pm
Get ready for the ultimate summer party with the hottest RnB party at PORT BEACH GARDEN BAR in NORTH FREMANTLE on Friday January 7.
Get your dancing shoes on and prepare to have all your Neo-Soul/RnB needs satisfied as THE LAW and their incredible support band KEN PAOLO AND THE SPACE CADETS, along with DJ yng millz bring you packed sets of original music and classic RnB hits to keep you dancing all night long.
Expect hits from such artists as Anderson. Paak, Bilal, Stevie Wonder, D'Angelo, Lizzo, Frank Ocean and Mac Miller.
Watch as Perth's best R&B musicians bring to life and deliver old school/nu school soul music that will seep into your soul and keep you on the dance floor all night long.
Chelsea Cullen and Zoe Gol - Backing Vocals
Trevor Stockton - Keyboards
KEN PAOLO AND THE SPACE CADETS
Ken Paolo and The Space Cadets are a fresh addition to Perth's music scene and are ready to make an impact. The band is fronted by vocal powerhouse, Ken Paolo, who also pens the band's originals.
The band cites their influences to be RnB and Soul artists such as Summer Walker, Ari Lennox, Thundercat, Lauryn Hill and D'Angelo.
Get ready to get down and dirty to your favourite tunes and club classics. From Slim Shady to Pop Smoke and Destiny's Child to Doja Cat, there's Trap/RnB/Hip Hop and Afrobeat flavour coming your way.
Live Music | DJ | Good Vibes | Caribbean Cuisine | Bars'n'Brews
We would like to acknowledge the traditional custodians of the land on which this event will be held, the Whadjuk Noongar People, and pay our respects to their elders both past and present. Always was, always will be.