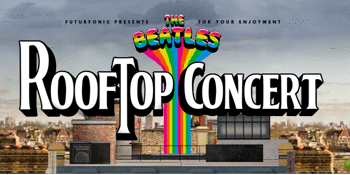 Futurfonic
The Beatles' Rooftop Concert - Played LIVE! by The Honey Sliders
Felons Barrel Hall (Brisbane, QLD)
Saturday, 16 October 2021 7:00 pm
The Beatles' classic final live performance - THE ROOFTOP CONCERT
Performed LIVE by The Honey Sliders
Felons Barrell Hall
Sat 16th Oct, 2021
Doors 7pm
Tickets through Oztix - $45 + booking fee
The Rooftop Concert
On a freezing mid winter's day in London, 1969, The Beatles gave their last ever live performance upon the rooftop of their Apple business headquarters in downtown Saville Row.
With a make shift rooftop stage, portable recording equipment, a bewildered crowd, the addition of Billy Preston on keys, and John and Ringo adorned in borrowed jackets, The Beatles' Rooftop Concert became one of the most iconic live performances of all time.
Who could forget the passion of John Lennon singing 'Don't Let Me Down', or Paul effortlessly delivering 'Get Back', or the raw guitar riffs of 'I've Got a Feeling' and 'I Dig a Pony', along with the uptempo blues 'One After Nine o Nine'. The Rooftop Concert saw The Beatles at their finest, live rock n roll with no overdubs or studio trickery. The most influential and best known band of the twentieth century managed to spend 42 minutes performing upon their Apple business' rooftop before the local constabulary intervened (politely) and requested that the equipment be turned off, and for the music come to an end.
Brisbane band The Honey Sliders will be bringing this treasured, and well-documented performance back to life in 2021. Performing each of the songs The Beatles' played on that historic day, plus a long set of tunes they have selected from the extensive Fab Four repertoire.
The Honey Sliders bring one their favourite albums back to life every year. More as a respectful homage than a tribute, they have created a legacy of live concerts that range from performing The Rolling Stones' classic albums Sticky Fingers and Let it Bleed (featuring Tim Rogers), to The Band's Last Waltz (with guests Bernard Fanning and Troy Cassar-Daley). They have played The Beatles' timeless album Abbey Road, as well as the Easy Rider Soundtrack, Neil Young's On the Beach, and more. Selling out venues with their interpretations of these influential albums, the Honey Sliders have become well respected for their musical dexterity, being able to successfully and skilfully navigate this pantheon of rock n roll.
The Honey Sliders are, Danny Widdicombe ( 3 x ARIA Award nominated The Wilson Pickers), Dan Mansfield (The Gin Club), Bos Borley (Resin Dogs) and Ben Carstens (Mexico City). Separately each of these musicians are well respected in the Australian music scene, but together they are known as one of the few bands in Australia that can turn their hands to such a dizzying array of musical styles and concepts.
Don't miss The Honey Siders performing The Beatles' Rooftop Concert + The best of the Beatles, live and in person!