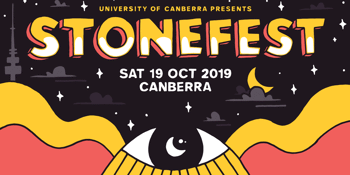 University of Canberra presents
Stonefest
British India, Ceres, Cry Club, Example (UK), FRITZ, Genesis Owusu, Japanese Wallpaper, Mallrat, Moaning Lisa, Ninajirachi, Pagan,  RAAVE Tapes, Sampa The Great, Skegss, Sputnik Sweetheart, Teen Jesus and the Jean Teasers and Thelma Plum
UC Refectory, Canberra (Bruce, ACT)
Saturday, 19 October 2019 4:00 pm
Stonefest 2019 | Saturday 19 October | UC Refectory & UC Hub | 18+
Full Lineup:
(in alphabetical order)
British India | Ceres | Cry Club | Example (UK) | FRITZ | Genesis Owusu | Japanese Wallpaper | Mallrat | Moaning Lisa | Ninajirachi | Pagan | RAAVE Tapes | Sampa The Great | Skegss | Sputnik Sweetheart | Teen Jesus and the Jean Teasers | Thelma Plum
After nearly a decade in hibernation, Stonefest returns to the University of Canberra. Set to take over UC Refectory and UC Hub this October with a mammoth lineup of international acts, Hottest 100 favourites and some of Australia's hottest new talents, Stonefest is a nostalgia trip and a glimpse into the future all in one.
Heading up the lineup are a duo of Australian acts. Skegss have shot to stardom with their buzzed-out, relatable surf rock that saw them claim #11 in the 2018 Hottest 100 with 'Up In The Clouds', whilst Mallrat is on a trajectory all her own, with an entirely sold out national tour that included four back-to-back shows at the Corner Hotel and three at The Triffid in Brisbane.
There are also nods to Stonefests past, with British India returning to the festival they played more than a decade ago and Euro pop megastar Example dropping in from the UK.
Canberra acts have been kicking some serious goals in recent times, and they're well-represented with globetrotting rapper/performance artists Genesis Owusu and alternative rockers Moaning Lisa heading up a local contingent that also includes Sputnik Sweetheart and Teen Jesus and the Jean Teasers.
'Clumsy Love' singer Thelma Plum, Zambia-born rapper Sampa The Great, instant party RAAVE Tapes, past Unearthed High winner Japanese Wallpaper, and emo favourites Ceres prove that there'll be something for everyone across Stonefest's two stages. Emerging acts Cry Club, Ninajirachi, Pagan and FRITZ round out the lineup, offering new discoveries for the uninitiated.
The announcement comes hot on the heels of a live music resurgence at the University of Canberra, driven by the team at UC Live. Their two dedicated music venues (UC Refectory and UC Hub) have put forward a compelling live music program that's seen the likes of Peking Duk, Angus & Julia Stone, Vera Blue, Alison Wonderland, Ball Park Music, San Cisco, Hands Like Houses and hundreds more grace its stages in the past 12 months.