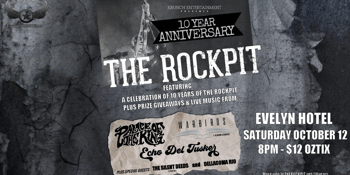 The Evelyn Hotel & Krunch Entertainment
The Rockpit 10th Birthday Celebration
Palace Of The King, Warbirds, Echo Del Tusker, The Silent Deeds, Dellacoma
The Evelyn Hotel (Fitzroy, VIC)
Saturday, 12 October 2019 8:30 PM
Rock, Blues & Metal media publication The Rockpit is celebrating it's 10 year anniversary in 2019!

The rock media company recently announced the first event in Perth for September and now continue the celebrations in Melbourne on Saturday October 12th at the Evelyn Hotel in Fitzroy!

The event will include live music, prize giveaways and a party that will end all rock parties!

The Rockpit has been one of the leading Hard Rock and Metal online media outlets growing each year since its formation in 2009, now with a current global reach of over 300,000 readers per month.

Some major changes and additions in recent years has allowed The Rockpit to expand into other areas including the launch of it's own online webstore at Rockpit Records, a monthly podcast
and it's artist management & booking arm Krunch Entertainment.

Part of the ethos of the Rockpit has always been to promote the local as much as the global and over the years the team has helped publicise, push and draw the attention of over seas audiences to hundreds of local acts, and that drive to share great local music (wherever it is from) will
never cease.

Following in that tradition, the 10th anniversary show on October 12th will feature a stellar lineup
of Aussie bands including Palace Of The King, Warbirds (album launch), Echo Del
Tusker, The Silent Deeds (Perth) and Dellacoma Rio
.
With great music, beer flowing plus a stack of cool prizes to give away to punters, this
will be one event not to miss!