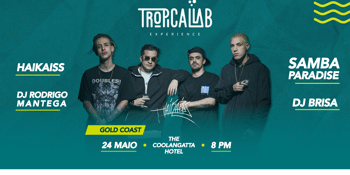 Tropical Lab presents
Haikaiss (Gold Coast)
with Samba Paradise(Gold Coast) - DJ Mantega(São Paulo) - DJ Brisa (Sydney).
Coolangatta Hotel (Coolangatta, Gold Coast, QLD)
Sunday, 24 May 2020 7:00 PM
Nosso lab está de volta, a primeira experiência foi concluída com sucesso e nos deixou ainda mais motivados para fabricar e resgatar nossa cultura.
A Tropical Lab chega trazendo uma nova identidade e um novo conceito de festa brasileira na Austrália, foi criado para misturar as maravilhas tropicais com muita alegria, música, amor e diversidade, transmitindo uma experiência única e nostálgica.
Diretamente de São Paulo, o convidado especial da vez é o HAIKAISS, eles chegam pra comemorar o lançamento do seu novo álbum ''Aquário" e prometem fazer um show inesquecível. Além deles, teremos o Samba Paradise(Gold Coast), o DJ Mantega(São Paulo) e a DJ Brisa (Sydney).
Ta entendendo onde queremos chegar? Vamos misturar tudo no nosso lab, o velho com o novo, o brasileiro com o gringo e o samba com o rap!
_______________________________________________________________
Our Lab is back, the first experience was sucessfully concluded and it let us more motivated to make and bring our culture back.
𝗧𝗥𝗢𝗣𝗜𝗖𝗔𝗟
𝗟𝗔𝗕
arrives bringing a new identity and concept to Brazilian parties in Australia, we want to turn your night unforgettable. It was created to mix all the tropical wonders from Brazil with joy, music, love and diversity, delivering a unique and nostalgic experience.
Directly from São Paulo, the special guest is Haikaiss, they are coming to celebrate their new álbum "Aquário" with a memorable concert. Moreover, Samba Paradise, DJ Rodrigo Mantega and DJ Brisa are confirmed to complete the line up.
Can you see where we're heading? Our lab is gonna mix everything up, the old with the new, Brazilians with the world, rap with samba.