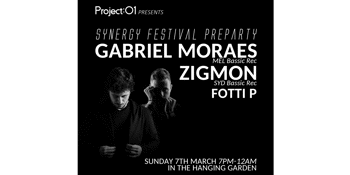 Project:01
Synergy Festival Preparty
Gabriel Moraes + ZigMon + Fotti P
In The Hanging Garden (Hobart, TAS)
Sunday, 7 March 2021 7:00 pm
Project:01 presents the Synergy Festival Preparty, with sets from Gabriel Moraes, ZigMon, and Fotti P.

Exploring uncharted territories of techno, Brazilian sound explorer Gabriel Moraes approaches his expeditions in a noticeably unique way. Sitting restlessly between the heated Berlin style, progressive, tech house and a good measure of rave, the tone is catching on; eyes widen and ears prick when the robust sound rumbles through. Causing a serious international stir, Gabriel's music has been played and praised by Eric Prydz, Solomun, Victor Ruiz, Coyu, John 00 Fleming, ANNA, Richie Hawtin, Pan-Pot and many more of the world's most influential artists.

Bassic Records founder ZigMon breaks the boundaries of progressive, techno, house and electronica, generating encapsulating dance floor dynamics with deepened drive, elated euphoria and a touch of psychedelia. Finding a balance between alluring melodies, driving basslines and grounding groove, ZigMon sees his purpose to deliver something unexpected and unique, compelling an unpredictable and emotional journey without the confines of style or genre. A vagabond of the Australian festival circuit, ZigMon's diverse energies have compelled dancefloors at Splendour In The Grass, Rainbow Serpent, Strawberry Fields, Subsonic Music, Earth Frequency, Dragon Dreaming, Babylon, Tanglewood, Esoteric, Elements and as an official resident DJ of Rabbits Eat Lettuce and Bohemian Beatfreaks.