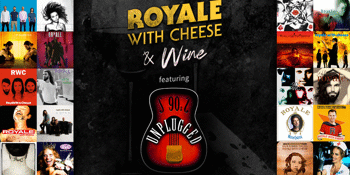 Royale with Cheese - your favourite 90s covers
Royale with Cheese & Wine | Unplugged & Uncorked
Wallaroo Estate (Wallaroo, NSW)
Saturday, 23 October 2021 7:00 pm
Royale with Cheese return to Wallaroo Wines just outside of Canberra to play their 90s Unplugged show with the gorgeous backdrop of this amazing winery. Numbers strictly limited!

Royale with Cheese is Australia's premier 90s rock show, playing all 90s rock and pop covers – from Seattle-sound to Grunge to Britpop and all the best Oz Rock from the 90s. Comprised of five experienced musicians, Royale With Cheese is not just a covers band - it's a rollicking 90s party reviving one of the greatest and most influential decades in rock music.

Royale with Cheese now presents their 90s Unplugged show, recreating some of the best performances from the MTV Unplugged shows of Nirvana, Alice in Chains, Pearl Jam, Stone Temple Pilots, REM and Oasis as well as stripped down versions of classics from Red Hot Chili Peppers, Radiohead, Smashing Pumpkins, U2, Green Day, Foo Fighters and more!

On Saturday 23 October 2021, Royale with Cheese bring their 90s Unplugged show to the gorgeous Wallaroo Winery just outside of Canberra. Guests will enjoy beautiful wines from the estate while the band plays with the backdrop of the setting sun over a magnificent vista!

Numbers strictly limited and Covid restrictions apply, Rain or Shine. In the event that we need to postpone the event due to Covid, your ticket will remain valid for the new date.

Onsite camping available at no extra cost (booking essential).

Take your time, hurry up, choice is yours, don't be late! Tix on sale now.