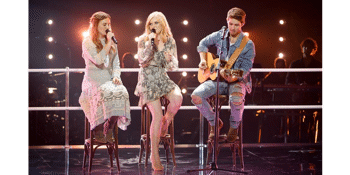 Homegrown
Moonshiners Honky Tonk Bar (Tamworth, NSW)
Wednesday, 22 January 2020 3:00 pm
Katelyn, Liam and Kasey O'Donoghue – 22, 19 and 17 are brother and sisters raised on properties in Far North Queensland and have sung together all their lives.
From an early age they travelled to festivals and talent quests all over Queensland and beyond, performing wherever there was an audience, from thousands of people at the Gympie Muster, to busking or sold-out ticketed shows at Tamworth.
Individually they are super talents but together they are magic, and must be seen and heard to be believed. The sibling harmonies, one male and two female voices blended as one, are exceptional and will strike comparisons with Little Big Town, Fleetwood Mac & The McClymonts work!
More recently, Homegrown auditioned for The Voice Australia on Channel 9 where they wowed the audience with a 4-chair turn joining Team Joe Jonas.