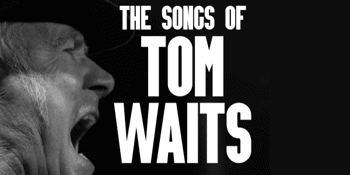 The Harbour Agency presents
A Belly of a Drunken Piano - The Songs of Tom Waits
Royal Hotel Queanbeyan (RHQ) (Queanbeyan, NSW)
Saturday, 28 September 2019 7:45 pm
---
---
DINNER & SHOW PACKAGES
---
Dinner service commences at 6.00pm. General Admission Entry at 7.45pm

Dinner & Show packages include entry and a two course meal (Entrée & Main), alternate serve.
*Shared table seating: 1, 2 OR 3 people ticket holders are seated together*
Please note: this show will have limited seating and be standing only, dinner&show tables cannot be joined together on the evening and dinner will be allocated in multiple rooms separate to the show. Each below purchase option will allow you to buy one whole table. Tables may be place together to suit numbers. If you require more than one table per purchase please call our customer service team on 1300 762 545.
Special Needs Booking Information
For special needs bookings (including specific dietary requirements) please contact the venue directly on (02) 6297 1444.
Online Ticket Availability
Dinner & Show sales close at 12pm on the day prior to the event.
Show Only sales are available up until 4pm the day of the event. Door Sales are subject to availability
.
BELLY OF A DRUNKEN PIANO is a passionate, demented and intense rock journey through Tom Waits' rich catalogue of music, mining some of Waits' most memorable hits-from Martha and The Piano Has Been Drinking to Big in Japan and Hold On. Drawing on his personal experiences, as well as Wait's vast musical history, D'Arrietta adds new dimension to the
music, as he shares his personal love affair with the 'prince of melancholy's' brilliant songs. Waits' colourful misfits come to life in this powerful, poignant and innovative show.
It premiered in 2005 at The Soho Playhouse New York.
'electrifying' by Variety
'rollicking' by The New Yorker
'rock solid emotion' by The New York Times
The show went on to play The Edinburgh Fringe in 2007, Montreal Jazz Festival and London Riverside Studios in 2008.
It re-emerged in 2018 at the Adelaide Fringe Festival and the Edinburgh Fringe Festival where it collected all 5 star reviews.
The Sunday Times recommended it as one of the top 10 shows to see at the Edinburgh Fringe 2018.
Stewart D'Arrietta is the other half of 'Lennon Through A Glass Onion' and follows the success of 'My Leonard Cohen' at Edinburgh Fringe 2016 -17, with sold out shows at the Sydney Opera House and Melbourne Arts Centre.
In this show, D'Arrietta inhabits the underworld of the the lyrical tragedies and the jocular narratives in the songs of Tom Waits, with an ardent celebration.
Touching on the themes of love, loneliness, war, the dreams and ambitions of childhood and our relationship with God, D'Arrietta romps through the songs with his trademark raw vocal style, punctuated by his laconic humour.
Award winning composer and musical director D'Arrietta has performed Australia wide as well as internationally, at The Montreal Jazz Festival, EX Theatre Tokyo, Soho Playhouse New York, Union Square Theatre New York and The Riverside Theatres London. He has toured extensively in the UK.
D'Arrietta's credits include 'Lennon Through A Glass Onion', (co-created with John Waters, one of the longest running, most successful shows in Australia), 'My Leonard Cohen' ( sold out shows at The Sydney Opera House, Edinburgh Fringe and Adelaide Fringe), 'The White Album Concert' and 'Beatles Back to Back' ( Sydney Opera House ), 'Cafe Brel', 'Feeling Randy'( a homage to Randy Newman ), and 'Tuxedo and the Little Black Dress'.
'Satango', a musical for which he composed the music, opens in June 2019 in Las Vegas.