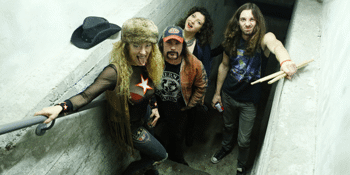 Hardline Media presents
Nashville Pussy
with special guests
Amplifier Bar (Perth, WA)
Sunday, 10 May 2020 8:00 PM
VIP MEET N GREET AVAILABLE VIA: www.hardlinemedia.net
Atlanta, Georgia's Nashville Pussy will return to Perth as part of their national Australian tour next May, with a headline show at Amplifier on May 10.

Raised on a diet of Marshall stacks, Gibson Guitars, Jack Daniels and weed, Nashville Pussy is the bastard offspring of foul-mouthed, demented hillbilly Blaine Cartwright and tractor-driving, nude art school model, guitar prodigy Ruyter Suys.

Cartwright grew up in Kentucky's bible belt, listening to the Ramones and The New York Dolls to maintain his sanity; while in Vancouver, hippie kid Ruyter Suys picked up her father's guitar and started playing along with Led Zeppelin and Jimi Hendrix.

The Grammy-nominated rock outfit traverse genres from Southern rock to psychobilly, hard rock, cowpunk and their own brand of "sleaze rock", with songs revolving around the subjects of sex, drugs, drinking, fighting and rock 'n' roll.

Nashville Pussy quickly gained a reputation for being like "AC/DC with a female Angus", with Ruyter's blues-meets-punk frenzied guitar solos and Blaine's hilarious "jailhouse nursery rhyme" lyrics.

The band's debut album Let Them Eat Pussy was recorded and mixed in five days for $3,000, picked up by Mercury Records for a million-dollar contract during a signing freeze.

Nashville Pussy's track Fried Chicken And Coffee was soon nominated for a Grammy for "Best Metal Performance".

Six studio albums later, the band has now played in front of hundreds of thousands of fans in nearly 40 countries; sharing stages with some of the world's biggest rock bands, including ZZTOP, Marilyn Manson, Slayer, Iron Maiden, Black Sabbath, Lynyrd Skynyrd and Motörhead, with whom they've played every rock outpost from Asia to Europe.

In fact, Motörhead's late front man Lemmy dubbed Nashville Pussy, "America's last great rock 'n' roll band". Perth better get ready to sweat!