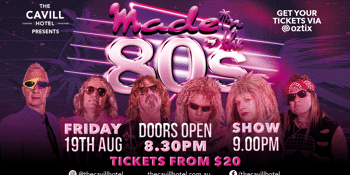 Made in the '80s
The Cavill Hotel (Surfers Paradise, QLD)
Friday, 19 August 2022 8:30 pm
The '80s are BACK at the Cavill Hotel!
Let's get ready to Party!
There has never been a more diverse decade of music, from punk to LA Glam rock, Electro Pop & dance to straight-up raw anthem rock, the '80s had it all!
Made in the 80's is a searing 6-piece band that delivers some of the greatest Rock anthems and Pop Dance Classics of all time too emerged from the 80's!
Relive all the fun LIVE and LOUD at the Cavill Hotel!