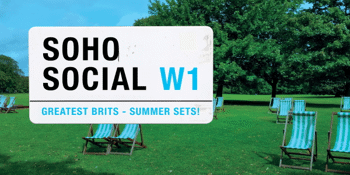 The Charing Cross Crew presents
SOHO SOCIAL | The Greatest Brits - Summer Sets
Port Beach Garden Bar (North Fremantle, WA)
Saturday, 29 January 2022 4:00 pm
The Charing Cross Crew return to the lush coastal surrounds of PORT BEACH GARDEN BAR, NORTH FREMANTLE and present SOHO SOCIAL – THE GREATEST BRITS | SUMMER SETS on SATURDAY 29 JANUARY 2022
Step out in your summer threads, and come soak up some festive fun, as a bangin' lineup of live acts come together in tribute to The Greatest Brits, performing the best from UK Festival legends OASIS, MADNESS, THE STONE ROSES, ARCTIC MONKEYS, SUPERGRASS, THE JAM and THE SPECIALS plus THE CHEEKY JAR DJS mixing up UK classics and summer festival favs!
OASIS performed by MAD FERRET
MADNESS performed by SKARPER
THE STONE ROSES performed by THE PARKAS
ARCTIC MONKEYS performed by MOSCOW MULES
SUPERGRASS performed by THE MANSIZE ROOSTERS
THE JAM performed by SOUND AFFECTS
THE SPECIALS performed by LIL PEDRO
Live Music | Parklife Vibes | Food Truck Tucker | Summer Bubbles & Brews

JOIN THE EVENT PAGE: CLICK HERE
For all SOHO SOCIAL PERTH info and updates visit:
www.facebook.com/sohosocial
************************
Port Beach Garden Bar is located at the rear of the Railway Hotel – 44 Tydeman Rd, North Fremantle
In the case of rain or bad weather, the show will be moved into the Railway Hotel Bandroom.
Ticket sales are restricted to the saleable capacity of the Railway Hotel Bandroom until weather conditions for event day are known.
Additional tickets will be released for sale upon approval by the venue, with favourable weather, to present the show in the Port Beach Garden Bar.
Licensed 18+ Event