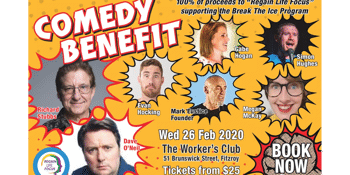 Comedy Benefit
with Richard Stubbs, Dave O'Neil, Evan Hocking, Gabe Hogan, Simon Hughes, Megan McKay
The Workers Club (Fitzroy, VIC)
Wednesday, 26 February 2020 7:30 pm
Come along and see Australia's best comedians performing to support the Regain Life Focus Foundation's "Break The Ice Program". 100% of proceeds will go to the foundation.

Mark Eustice is the Founder of Regain Life Focus. He grew up with similar dreams to any kid raised in the Melbourne suburbs in the latter half of the 20th century. He watched his football heroes on TV, imagining that one day he too, would be running across the MCG. His career took him to three clubs: Essendon, Richmond and the Sydney Swans.

From early on he just couldn't find comfort or peace of mind. Anxiety and depression gripped him as he grappled with mental health issues. If only he knew then what he knows now. He was suffering from a sever case of bi-polar disorder and depression.

His struggles lead him to begin experimenting with recreational drugs and alcohol. It didn't take long for it to get fully out of control as addiction set in. He wasted all of his money and assets, lost his family and friends.

It was the kindness of former teammates who set to work to raise the money for a stay in rehab.

When Mark entered rehab, he was days away from death. Since the day he walked out of the rehab clinic 13 years ago, he has been clean and sober.

He is now dedicating his life to helping others, to creating awareness and supporting people to be better resourced to deal with the scourge of addiction and signs of emerging mental health issues.

Performing for one night only Richard Stubbs, Dave O'Neil, Evan Hocking, Gabe Hogan, Simon Hughes and Megan McKay.

A guaranteed laugh, all for a great cause!