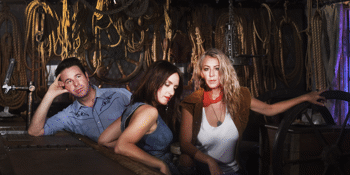 Jarrah Records Presents
The Waifs in Concert
With Special Guests The Bambuseae Rhythm Section
Mundaring Weir Hotel (Mundaring, WA)
Saturday, 6 March 2021 5:30 pm
WA's much loved, homegrown exports The Waifs return home for some special shows this summer.

The original road warriors, The Waifs have built a career out of continually circling Australia and the globe. From bustling cities to the farthest regional and coastal towns, they have spent the past 25 years, reuniting with old friends, and gathering new fans, thanks to their enchanting live shows and affable natures.

Three years on from celebrating their 25th anniversary and their #1 ARIA chart topping album Ironbark, Donna Simpson, Vikki Thorn and Josh Cunningham (with ever faithful and long-standing rhythm section of David Ross Macdonald and Ben Franz on board as usual) continue to share their folk-infused, feel good sounds with adoring, now multi generation audiences.

Venue Terms and Conditions

GATE AND PLAYING TIMES
Doors: 5.30 pm
The Bambuseae Rhythm Section: 6.45pm - 7.30pm
The Waifs: 8 pm - 10pm.
Curfew: 10.30pm

(Please note that Telstra is the only mobile provider with coverage in the area.)

Full seating is provided, however it is not allocated or numbered. It is advised that patrons be at the venue at gate opening time to secure good seating. Do not bring chairs.

DRINKS / ALCOHOL
This is a fully licensed event with full bar service available. Patrons must observe and adhere to the local licensing laws and responsible service of alcohol practices. Strictly No BYO alcohol, soft drinks, beverages, thermoses or glasses can be brought into nor taken from the venue.
Patrons must show, if asked by security or bar staff, photo ID proving they are over 18 years of age.

The bar will close 30 minutes after the end of the performance. There will be no sales of take away liquor.

MEALS
The Café opens at 5pm for counter meals, including wood fired pizzas. There will also be a burger bar in the beer garden. (Cash only in outdoor areas)

You CANNOT bring your own food or snacks.

You can bring sealed and unopened plastic bottled water. (no alcohol, soft drink, juice or thermoses)

SMOKING
All indoor areas of the Mundaring Weir Hotel are non-smoking.
There are two clearly marked designated smoking areas. Smoking is not permitted outside of these areas.

DRESS CODE
Neat casual dress. Shirts and footwear must be worn at all times.
Jackets or other clothing bearing patches or insignia of outlaw motor cycle gangs are not permitted to be worn on these premises at any time.

TRANSPORT
There is no public transport available to or from the Hotel. If you plan on catching a cab home, it is always best to pre-book.

Our address is Lot 502 Hall Road, cnr Mundaring Weir Road. If you are navigating by GPS, you could also type in Weir Village Road, cnr Hall Road.

If you drive, ample parking is available. Acrod parking is located in front of the Hotel building.

All parking is FREE.

Please follow the parking attendants instructions.

Strictly no overnight parking or camping in the carpark or surrounds. Areas are monitored.

WEATHER
Please note that we play rain or shine. You may bring wet weather protection such as ponchos and raincoats however umbrellas are not permitted. The stage is fully covered but the General Admission areas are open air. The hills air can become cool later in the evening, so it can be a good idea to bring a light jacket. Personal insect repellent can also make your evening more comfortable.

CAMERA AND RECORDING DEVICES
Patrons are advised that the use of flash photography, video and audio recording devices for commercial use is not permitted without the prior written consent of the concert promoter. All requests must be in writing and will be addressed at the discretion of the promoter. It is a condition of entry that all patrons refrain from the use of such photographic or recording equipment. Only cameras that 'fit in a pocket' will be permitted – cameras with powerful zoom lenses will not be permitted into the venue.

WHAT YOU CANNOT BRING
You cannot bring your own beverages (as listed above), food of any sort, glasses, umbrellas, tables, tents or sun shelters, wine spikes, video or recording equipment, professional camera equipment. Do not bring chairs

CONDITIONS OF ENTRY
*Bags may be searched upon entry and exit of the venue.
*Any prohibited items will be confiscated.


*All patrons must observe and adhere to the local licensing laws and responsible service of alcohol practices.

CHILDREN
We are a licenced venue. Children under 18 years who have purchased a ticket can only be permitted if accompanied by parent, step-parent or legal guardian. If not, they will be refused entry and will not receive a refund on the ticket.

Children accompanied by a parent/legal guardian under the age of 5 can enter the venue without a ticket.

Office of Racing, Gaming & Liquor and The Mundaring Weir Hotel House Management Policy will be adhered to at all times.

PLEASE ENJOY YOUR EVENING. DRINK RESPONSIBLY.