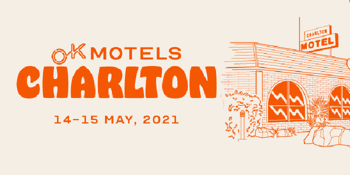 OK Motels Charlton
with Rolling Blackouts Coastal Fever, Blake Scott, Floodlights, Imperial Leather & Mighty Duke and the Lords
Charlton Motel (Charlton, VIC)
Fri 14 - Sat 15 May 2021 5:00 pm
We're heading back to our favourite Mallee town and making a weekend of it! We've made some extra fun on the Friday night if you want to take a sickie, with the 'Locals vs Blow-ins' Pool Comp and Mighty Duke and the Lords bringing the party. But if you can't make it in time for that, don't worry, Saturday is all about a 'Friend Speed Dating Devo Tea' with Tell Your Friends You Love Them and the ladies of the Charlton CWA. This event is a fundraiser for Victoria's smallest CWA branch. We'll also be launching, the Charlton Mini Golf Club, out the back of the Charlton Motel, let us all come together to celebrate it rising from the depths of soil and eucalyptus leaves, there'll be a comp too, of course.
This year also welcomes our brand new and improved OK Camp, right in the centre of town and within walking distance to the motel. You can BYO tent, or get Undersky to take care of it for you. Gary will look after you, and there's toilets and showers! Keep your eyes and ears open for some fun little surprises popping up within camp too.
Saturday night we welcome back Blake Scott, who was the first ever artist to play the Charlton! This time he's back on stage with his full band. We welcome some new acts to the function room, say hello to Floodlights, Imperial Leather and Sweat Dreams DJs! We've got more acts to announce soon, including our secret headliner, so stay tuned.
And, of course, we've got some seriously classy 70s meals for you, with classier cocktails to match.
See you there!