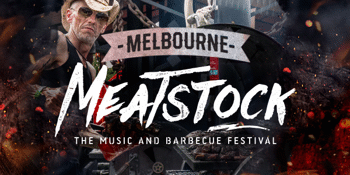 The Fat Apple Event Co presents
Meatstock Melbourne 2019
Melbourne Showgrounds (Ascot Vale, VIC)
Sat 23 - Sun 24 March 2019 11:00 am
Meatstock Melbourne is back, bigger and meatier:
The carnival for carnivores returns to Melbourne for round three
Celebrating its third year, the sellout success story, Meatstock festival is returning to Melbourne for another meat extravaganza on 23rd - 24th March with tasty tickets on sale today at www.meatstock.com.au.
Meatstock will be hosting some of the meatiest names in barbecue and kicking off the special guest roster this year is none other than carnivores Brad Leighninger and Tim Scheer, with their respective barbecue teams currently ranked No.1 and No.4 in the USA. These smokin' Pitmasters will be heading to Melbourne to run demonstrations at the festival and masterclasses at the Que Club.
Brad Leighninger, Head Chef of Gettin' Basted Competition BBQ Team and Pork Champion at the 2018 Jack Daniels World BBQ Invitational. Brad Leighninger doesn't take himself too seriously, except for when it comes to meat and barbecuing. Originating from Missouri, Brad now travels the globe seeking his next pork experience. Brad and his team have over 50 Grand and Reserve Grand Championship wins and counting and are currently ranked the No.1 barbecue team in the US.
Alongside Brad is Tim Scheer, Head Chef for fiery barbecue team Shake 'n Bake cranking out competition winning goods since 2009. Tim ranges from his home base in Missouri traveling the States to take part in 35 competitions a year. In late 2014, the Scheer family tackled their latest project by taking over the legendary Blues Hog Sauce. Blues Hog BBQ Sauce is ubiquitous with Kansas City style competition BBQ and is used by pitmasters around the globe to bring home the trophies. This carnivore has won over 65+ Grand and Reserve Grand Championships and is ranked in the top 5 in the US.
In addition Hillbilly Wes, Australia's celebrity pitmaster, Good Food AU winner and veteran Meatstock attendee Hillbilly Wes will be getting down to the Melbourne Showgrounds all for the love of barbecue. For Wes the meat sweats started in Lockhart, Texas, the Barbecue Capital of the world, where he was mesmerised by the real deal Texan Barbecue. After travelling back and forth and working with some of the best Barbecue establishments in Austin, he set up his own restaurant, Bovine and Swine Barbecue Co in Sydney.
Over 50 teams from across Australia and 5 international teams from the USA will be battling it out at the third A&E Melbourne Barbecue Wars for $12,000 in cash and prizes and more importantly to be crowned the best barbecuers in the land. Over 20 butchers will also be going head to head to crown Melbourne's best butcher. The event will also be hosting another round of Culley's King of the Que - a competition using a traditional barbecue to find the nation's best burger, wings, steak and bacon with the winner going on to Texas to represent Australia in the World Steak Championships.
The pro-protein festival is taking place in Melbourne from the 23rd- 24th March, featuring bands and barbecues, butchers and bourbon and plenty of beer.
The flaming hot, two day lineup includes competitions such as the 'Barbecue and Butcher Wars', as well as demonstrations and workshops. The event is garnished with a backdrop of live bands, BBQ inspired food trucks and craft beer from Yaks Ales.