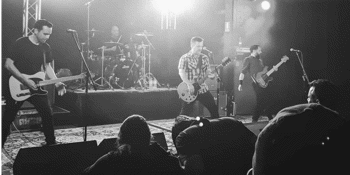 The Critics
with Covøids + Desert Dogs + Silver Foxes + The Wolfbats + DJ Holly Doll
Friday, 17 September 2021 7:00 PM
Through no fault of their own, Frenzal Rhomb have had to postpone their WA tour again. To make the best of a bad situation, we're throwing a massive local punk show so that all the Frenzals fans don't have to sit at home staring at the wall. Come down, bring yer mates, get on it and get yer eardrums pummeled by some of WA's finest: The Critics, Covøids, Desert Dogs, The Wolfbats, Silver Foxes and DJ Holly Doll spinning punk classics all night. Short sets, fast music, good times.


THE CRITICS
True WA punk legends, The Critics are definitely a contender for best Perth punk band of all time. From their debut EP The Incentive, to their groundbreaking full-length album Noise And Popularity, The Critics have an outstanding knack for catchy, no-bullshit punk rock led by one of the greatest voices in the biz. The Critics have only played twice in the last decade, so don't miss this rare opportunity to see these guys tear it up. Repeat: DO. NOT. MISS.

Listen: https://rabbitrec.bandcamp.com/

COVØIDS
Covøids give you a proper dose of straight-up '80s West Coast hardcore. Songs that last an average of 60 seconds? Check! Throwing shade at the revolving door of dickheads that is global politics? Check! What's not to love?

Listen: https://covoids.bandcamp.com/

DESERT DOGS
Oh so heavy and oh so sexy - Desert Dogs add a slick modern touch to the lineup. Featuring members of Castle Bravo, The Bob Gordons, Them Sharks and Silver Foxes; Desert Dogs won the WAM Award for Best Punk Band in their first year of existence. Since then, they've become one of the best live bands in the city. Once you've seen them, you know why.

Listen: https://desertdogsband.bandcamp.com/

SILVER FOXES
Whether its their distinguished elder statesmen look, their obsession with the USSR, or their perfect punked-out pop, Silver Foxes are a smorgasbord for '80s kids. Their Lost Cosmonauts EP is one of the greatest punk releases Perth has to its name. Listen for yourself and find out. На здоровье!

Listen: https://silverfoxes.bandcamp.com/

THE WOLFBATS
Punk'n'roll at its finest. Fast and catchy with irresistible vocals; The Wolfbats are a class act. Last seen burning the house down with The Decline, The Wolfbats are on top of their game right now, giving Perth a hyper dose of raw power and infectious melody.

Listen: https://thewolfbats.bandcamp.com/

CHICKSPIT
Politically-charged and fearsome punk rock from one of the most diverse lineups in Perth. Fighting the good fight for feminist and First Nations issues, Chickspit take no prisoners with their multilingual punk rock warcries. If you like it fast and furious (and who doesn't?) Chickspit may well be your new favourite band.

Listen: https://chickspit.bandcamp.com/

DJ HOLLY DOLL
From hosting multiple RTRFM shows, to holding down residencies at the best bars in town, DJ Holly Doll is one of our city's most beloved DJs. With an eye-watering record collection of everything from '77 to '84 to '99, no one is better suited to threading together a punk lineup as eclectic as this one.