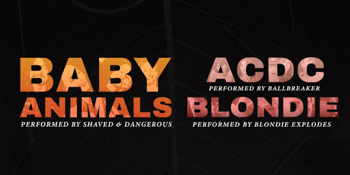 Classic Sets: Rock Chick Heaven
Performed by Blondie Explodes, Shaved And Dangerous & Ballbreaker
The Newport Hotel (Fremantle, WA)
Friday, 18 October 2019 8:00 PM
The Perth Ladies of Rock are taking over The Newport Hotel.

A night of classic rock presented by some of Perth's best female fronted bands with Blondie Explodes: A Tribute to Blondie, Shaved And Dangerous: A Salute to the Baby Animals and Ballbreaker: Girls Who Play AC/DC.

This huge Tribute show is bound to get you rocking to your core with songs such as, Call Me, One Way Or Another, Early Warning, Rush You, Highway To Hell, Whole Lotta Rosie and many more.