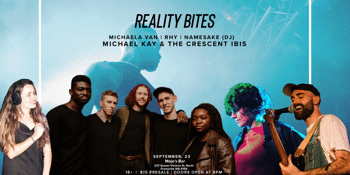 Michael Kay Presents: Reality Bites
Special Guests Michaela Van, Rhy, DJ Namesake
Mojo's Bar (North Fremantle, WA)
Thursday, 23 September 2021 8:00 pm
The Michael Kay Experience is coming to Mojo's Bar on September 23rd for a brand new show 'Reality Bites'.
This show showcases Michael Kay at his most vulnerable, covering a range of topics from heartbreak to redemption. Accompanied by his live band "The Crescent Ibis" you are guaranteed a set that will have you dancing and in your feelings at the same time.

The Reality Bites line up features the following entertainers you are sure to love;

Michaela Van: bringing a rich and soulful sound to the stage. Michaela loves telling stories through lyric and melody.

Rhy: the producer/songwriter brings you colourful indie dance music and delivers energetic and fun vibes with his newly formed live band.

Namesake (DJ): brings you that new wave sound, playing you hip hop, future beats and house.
Reality Bites is a show you don't want to miss.

Get your tickets now.