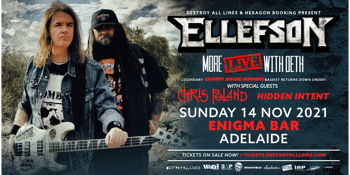 Destroy All Lines presents
CANCELLED - DAVID ELLEFSON More Live with Deth Australian Tour
with special guest CHRIS POLAND
Enigma Bar (Adelaide, SA)
Sunday, 14 November 2021 7:30 pm
As part of the legendary Big 4 of Thrash Metal, Megadeth are icons of the heavy metal world.
Founding member and bassist Dave Ellefson together with Megadeth's original lead guitarist, Chris Poland have joined forces and will tour Australia this May!
More Live With Deth
will feature sets from both musicians and their full bands, separately ahead of the pair joining forces for an epic finale just like it was the mid 80's.
Together Ellefson and Poland appeared on Megadeth's debut, 1985's Killing Is My Business.. And Business Is Good and their 1986 landmark album, Peace Sells But Who's Buying, which is regarded as one of the most influential thrash albums of all time.
The opening bass riff to Peace Sells was immortalised as the intro music to the long running MTV News and is ranked #11 in the 40 Greatest Metal Songs Of All Time, by VH1.
With a career spanning four decades, David Ellefson is Grammy Award winning musician with one of the most recognisable and distinctive bass guitar sounds in metal.
Chris Poland's unique lead playing on the first two Megadeth albums, undeniably contributed to their rise to the top of the thrash pile. He left the band in 1987 and returned for 2004's The System Has Failed.
After Deth, Poland went on to play in several acts that perfectly showcased his distinct jazz-infused thrash/rock style. In early 2019 he appeared on Ellefson's solo album, Sleeping Giants reuniting the pair musically yet again. This led to Chris and David playing a few select live shows together and thus, More Live With Deth was born!
Ellefson says of Poland Ellefson: "It was great to reconnect with Chris, musically and personally, who is still, and always has been, one of the most innovative players in metal."
Get yourself to one of these incredible shows for an evening full of the classics you know and a few surprises!
Be the first in line..or wake up dead.