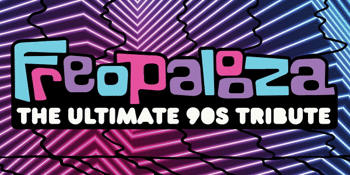 The Long Weekend presents
FREOPALOOZA | The Ultimate 90s Tribute
Port Beach Garden Bar (North Fremantle, WA)
Sunday, 26 September 2021 4:00 pm
FREOPALOOZA is the ultimate tribute to the 90s, an era when bands ruled the festival stage, and south of the river was home to legendary events such as The Big Day Out, Summersault and Mudslinger.
Celebrate the 90s, and relive the memories at Fremantle's PORT BEACH GARDEN BAR on SUNDAY 26 SEPTEMBER (Long Weekend), as a line-up of fun fuelled tribute acts perform 90s classics from big stage legends PEARL JAM, FOO FIGHTERS, RED HOT CHILI PEPPERS, STONE TEMPLE PILOTS, THE SMASHING PUMPKINS and FAITH NO MORE, plus THE PALOOZA DJS mixing up 90s festival faves!
PEARL JAM performed by THE BROWN STUDY BAND
FOO FIGHTERS performed by STACKED ACTORS
RED HOT CHILI PEPPERS performed by THE PEPPS
STONE TEMPLE PILOTS performed by THE LOUNGE FLYS
THE SMASHING PUMPKINS performed by MASHING POTATOES
FAITH NO MORE performed by THE REAL THING
Live Music | 90s Vibes | Food Truck Tucker | Local Brews

JOIN THE EVENT PAGE: CLICK HERE
SUNDAY 26 SEPTEMBER 2021 – PORT BEACH GARDEN BAR
DOORS OPEN 4PM | REAR RAILWAY HOTEL, NTH FREMANTLE
**********************************************
Port Beach Garden Bar is located at the rear of the Railway Hotel – 44 Tydeman Rd, North Fremantle

In the case of rain or bad weather, the show will be moved into the Railway Hotel Bandroom.
Ticket sales are restricted to the saleable capacity of the Railway Hotel Bandroom until weather conditions for event day are known.
Additional tickets will be released for sale upon approval by the venue, with favourable weather, to present the show in the Port Beach Garden Bar.