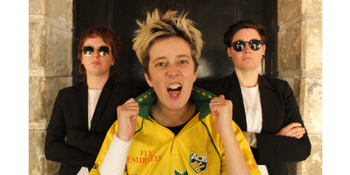 The Harbour Agency & Young Henry's present
SCABZ
The Old Bar (Fitzroy, VIC)
Saturday, 2 March 2019 7:30 PM
The following tale is one based on true events. It's a tale etched in mystery. One that delves into the psyche of a man… neigh! A legend. One starry night, at a place come known to many as World Bar, Australian cricketer Brett Lee stumbled upon the guitarist and vocalist of the shittest band in Newtown, Siobhan Poynton, guarding the nightclub's entrance.
Lee wished to know what lied behind those doors, but alas, he had no identification on his person – Poynton refused the fast-bowler entry herself. And here it is now, the tale turned into song.
Listen to 'Brett Lee's Got No I.D. (And He Can't Get Into World Bar)' here:
Drummer Lara Chrystal, bassist Loz Wylie and Poynton are currently touring with triple j favourites Skegss on their predominately sold out My Own Mess nation-wide tour. They played Yours and Owls Festival in September to a packed tent. Their iPhone-produced film clip for 'Starting Line' premiered on Rage, and the track received airtime on triple j and FBi radio.
The track was recorded and mixed by Daniel Antix (Gay Paris, Modern Baseball, Hinds) at Def Wolf Studios in Alexandria and mastered by Colby McQueen (Mac The Knife, Polish Club, Hunch). SCABZ prove to be a driving force behind Australia's DIY pub rock scene having joined Frenzal Rhomb as their main support in NSW's dirty and delightful RSLs this year, and supporting the likes of politically empathic and sonically elating acts like The Peep Tempel and The Pretty Littles
The track is taken from SCABZ's forthcoming six-track EP, due for release late this year.
For their forth-coming tour, see below:
Friday January 25 – The Parkwood Tavern, Mona Vale
Friday February 1 – Spillcity at The Zoo, Brisbane
Saturday February 2 – Miami Shark Bar, Gold Coast
Friday February 8 – Lass O'Gowrie, Newcastle
Saturday February 9 – Leadbelly, Sydney
Thursday February 14 – The Loungeroom, Port Macquarie
Friday February 15 – Mountain Sounds Festival, Central Coast
Saturday February 16 – Mountain Sounds Festival, Central Coast
Sunday February 17 – North Wollongong Hotel, Wollongong
Friday February 22 – The Phoenix Bar, Canberra
Saturday February 23 – The Marlin Hotel, Ulladulla
Friday March 1 – The Eastern, Ballarat
Saturday March 2 – Old Bar, Melbourne