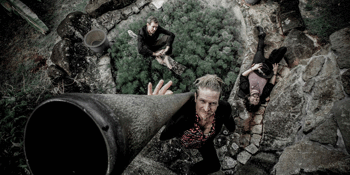 Imperial Hotel presents
Wild Marmalade
with Flaskas + Alisha Todd
Imperial Hotel Eumundi (Eumundi, QLD)
Saturday, 5 January 2019 7:30 pm
Just past the speed hump of New Years Eve and roaring into the New Year, don't forget to take time out to Dance. This is no ordinary night out. This will be one of the most uplifting and wild evenings the sunshine coast sees all year. So let's kick 2019 in with style.

Wild Marmalade come up to visit the coast to strike the post Woodford ninja dance blow of destiny. That moment when the vibration strikes and you have no where to go, so you dance. That's where we this is at.

Joining forces with Tijauana Cartel's astonishing flamenco guitarist, Paul George, the power of didgeridoo and drums is infused with fire and passion from one of Australia's leading guitarists. This is a night not to be missed.

2018 has been an epic year for Wild Marmalade. As well as many Australian concerts the band has toured internationally throughout Europe including shows in Austria, Hungary, Switzerland, Spain, Italy, Malta and Holland and more recently headlined the largest outdoor festival in Melanesia, Fest'Napuan in Vanuatu. This summer is looking to be a powerful one with the band headlining Tanglewood Festival for NYE and then rolling on to the sunshine coast, and all with a smile. J

Supported by local Sunny Coast groovers Flaskas and by the lovely Alisha Todd this night is a full spectrum experience. Movement medicine delivered into the heart of the Sunshine Coast.

More About the Bands:

WILD MARMALADE
"The more you move the more we groove." WM

Australian band Wild Marmalade are the pioneers of the didgeridoo and drum sound that is now a global phenomena. From their humble origins as street entertainers in the late 90's they have taken their unique brand of didgeridoo and drum dance music to stages, clubs and festivals the world over.

Cirque du Soleil were one of the first to be interested in the Marmalade sound. Composer Benoit Jutras said after experiencing Wild Marmalade play for the first time said that it was "... the most uplifting, energetic live performance I saw in my life......A unique experience."

With a strong following in Japan, Australia and Europe, Wild Marmalade have seeded a movement of people around the world that have a taste for dance music played totally live, with only human energy and power. They have regularly played at electronic dance music festivals such as Boom (Portugal) and Ozora (Hungary), Folk Festivals such as Woodford Folk Festival (Australia), and have consistently toured Japan, Europe and Australia every year since 2000.

With their ethos of free-play improvisation it is impossible not to be carried away by their dance spell. Every performance is a unique journey, crafted specifically for the time, place and people present. The band enter the show arena empty handed, no set list, no plan whatsoever, just free minds in a sea of energy, ready to go.

In a world where nearly everything is ordered and rehearsed. Wild Marmalade deliver a wholehearted journey into the present moment with a kind of reckless abandon that defies categorization.

Uplifting, inspired, human powered dance music unparalleled in the world today.

FLASKAS:
'Flaskas' are infectious in the way they command the stage; their unique sound is instantly earthy with a distinctly Australian rhythm. Flaskas' trademark sound is a re-imagining they call 'Earth Rock' – an organic high-power blend of alternative world, coastal roots, funk, folk, blues and Indigenous music utilizing various native instruments. Bringing a real live tribal acoustic sound to the doorstep of your senses, sharing a multi-dimensional & cultural experience that will touch and invigorate your soul.

ALISHA TODD
From her humble beginnings being raised on country and 90's pop in small town Gympie, to opening the lid of Pandora's box of worldly delights, Alisha has sung her way through it all with a fiery passion that only grows with time. 2012 brought the much-anticipated milestone of the production of her debut EP 'Of All Time', a 5-track collection of country-pop inspired songs, with the official release in mid 2013. The EP was warmly received in shows supporting fellow Australian independent artists Marshall Okell and Claude Hay. 'Without Us' earned Alisha three Dolphin Awards Finalist Nominations in the categories of Vocalist of the Year, Pop Song of the Year and New Emerging Talent of the Year and 'Charlie' making finalist in Pop song of the year for both Dolphin Awards and The Music Oz awards.