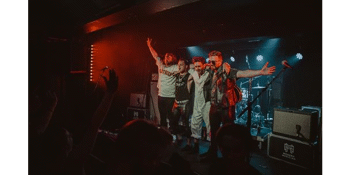 Gas Thief | Sleepwalin' Single Release
Van Ramsay + Babylon Howl
Friday, 3 December 2021 7:00 pm
ARE YOU READY TO ROCK?
GAS THIEF have finally made it to their FIRST HEADLINE show. With the help of Babylon Howl and Van Ramsay, GAS THIEF are celebrating their release of their new single Sleepwalkin'.

If you missed GAS THIEF in the past, this will be the show not to miss. Their party games and rock n roll egos will ensure you will be entertained the whole night. What will they have up their sleeve this time?

"Phenomenal!" - Rolling stone Magazine ★★★★★
"The Greatest live Performers since QUEEN at Live Aid" - Jimi Hendrix ★★★★
"Making Music Great Again" - Donald Trump 'POTUS' ★★★★
"I'll Only Come If You Dont Sing." - Johnny's Mum ★

Join Johnny, Billy, Vibby and KOKO, as they take the stage at ALTAR, December 3rd.
For a one-off show is a once in a lifetime experience you'll be telling the Grandkids about. You won't want to miss it.