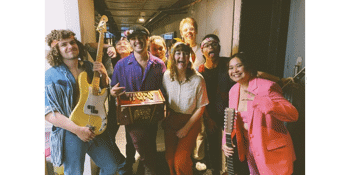 Odyssey to the Sun
with Lace De Bridge, Champagne Jackets
The Workers Club (Fitzroy, VIC)
Tuesday, 9 November 2021 7:00 pm
FACEBOOK EVENT
Led by the Italian guitarist and singer-songwriter of the project Marco Troiano, Odyssey to The Sun is influenced by "70 psychedelic rock, space rock, blues, funk soul and reggae.
The message of their music is based on self-discovery, consciousness, contemplation and love for nature. Get ready for some screaming guitar, catchy melodies and energetic tunes.
Supporting the odyssey on the night there will be the blues-rock band Champagne Jacket led by British singer-songwriter Jack Lewis with his soulful vocals and lyrics about consumerism, consent and others social themes. The second act will be Lace De Bridge, led by Roman singer-songwriter Claudio Pizzingrilli. A blend of alternative electronic and folk with husky melodies and lyrical truths reminiscent of identity.