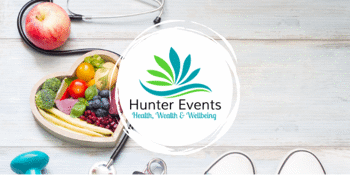 Hunter Events Group present
Health, Wealth & Wellbeing 2022
Newcastle Showground Exhibition Centre (Newcastle, NSW)
Sunday, 6 November 2022 10:00 am
*Postponed from 2021*

Hunter Events Health, Wealth & Wellbeing
2022 will help you reset, refresh or smash the goals you've had to put on the backburner. Get all of the best advice, tips and tricks from local industry professionals for every aspect of life – from Accountants, Home Loan Managers and Consultants to Naturopaths, Nutritionists and Personal Trainers.
Don't miss his Q&A and your chance to meet & greet Newcastle's own Olympian & Social Media Superstar in person at Health, Wealth & Wellbeing Summer 2022!
Olympian
, Entrepreneur and Social Media Superstar Sam Fricker is a force to be reckoned with! Growing up in Newcastle but now living in Cronulla, the 19-year-old was one of four debutantes who competed in the 2021 Australian diving team at the Tokyo Olympic Games!
Beginning his sporting career at age 10, Sam has shared his journey to the Olympics along with his active and adventurous lifestyle online - in just 12 short months he has gained upwards of 1.2M followers and boasts an incredibly loyal online audience.
A passionate advocate for cleaning up our Oceans, Sam runs a small business 'Sams Straws' to help combat plastic pollution.
From giving Triple J's Drive Hosts Hobba & Hing a crash course in Olympic Diving on national radio to taking over Tik Tok, you'll hear all about Sam's journey and get expert advice from one of Australia's brightest rising starts!
Anthony Burke, highly successful Motivational Speaker, Life Coach, MC & Celebrant will MC the invaluable day and empower, inspire and motivate attendees, no matter their goals.
'Meal prep' doesn't have to be a dirty word. Corryne Parkhill, Elysia Wellness Retreat's Sous Chef, has been delivering incredible nutritional experiences within the wellness industry for over 15 years. Join Corryne for live cooking demonstrations as she educates guests on how to appreciate food as medicine and embrace healthy eating.

After revelling in their new-found cooking prowess, attendees will learn the industry secrets of weight loss from Dan Marshall, Owner of CoreFit Newcastle. Having been featured on Foxtel's Industry Leaders, Channel 9, Newcastle Herald, Hit106.9 radio, ABC radio and more, Dan's session is not to be missed. "In 90 days, I help parents lose up to 10 kilos and keep it off so they can age vibrantly with confidence and comfort …without fad diets or hours of endless cardio" – Dan Marshall.
Ask any Financial Adviser when the best time to start planning for your future is & they will answer "yesterday". With over 40 years' experience in the Financial Services industry, Senior Financial Adviser at Newcastle Financial Planning Group Janelle Kirk has helped her clients, both young and old, achieve their goals and plan for a better tomorrow. Join Janelle as she identifies which financial milestones you should be achieving in your 20s, 30s & 40s so that you have the financial means to live your best life.

Time to re-vamp your activewear wardrobe? Don't miss the Activewear Runway Show and EXCLUSIVE 10% off on the day from local legends Fohxi Body!
Get ready for all this and more, including:
- FREE Gift Bag for the first 500 guests packed full of amazing products, deals and samples! (Limited numbers - stay tuned for details!)
- FREE Zumba classes!
- Activewear Runway Show thanks to Fohxi Body & Fohx The Label
- Exclusive On-Day ONLY Discounts!
- Fitness Classes & Personal Trainers
- Motivational Speakers
- Chiropractors
- Financial Advisers & Accountants
- Home Improvement & Builders
- Mindset Coaches
- Chefs & Meal Prep Demos
- Healthy, Organic & Nutritional Foods
- Event & Wedding Planners
- Skin Care & Beauty Therapists
- Hearing & Eyesight Specialists
- Live Demonstrations
- Interactive Activities All Day
- Kids Face Painting & Balloon Twisting
- Stay tuned for more exciting announcements!
Children under 16 years old receive free entry and must be accompanied by a guardian.

Newcastle Showground Exhibition Centre (Opposite Newcastle Entertainment Centre), Brown Road Broadmeadow.

This is a COVID Safe Event. If you feel unwell, have been in contact with a suspected case, or are waiting for COVID Test results at the time of the event, we kindly ask that you do not attend.
Speakers, entertainment and stalls are subject to change.