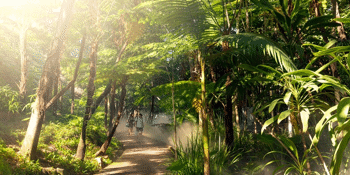 Roma Street Parkland and The Garden Room
Bush Tucker Experience - Guided Tour and High Tea
Roma Street Parkland (Brisbane, QLD)
Saturday, 20 August 2022 10:00 am
Join us on this new experience as you explore the Roma Street Parkland Rainforest and learn more about the uses of Australian native plants followed by a Bush Tucker inspired High Tea at The Garden Room Cafe.
ACCESSIBILITY INFORMATION
This guided tour commences at The Hub in Roma Street Parkland. The tour travels on a route with some steps and gradual inclines. Please advise your guide if you would prefer a route that is step free.
For further information on accessibility please contact us on rsp@cityparklands.com.au or 1300 137 468 during office hours.
HEALTH AND SAFETY INFORMATION
Please wear a hat, sunscreen and bring a water bottle. A water station is located in The Hub.
COVID-19 GUIDELINES
On arrival at The Hub please take a seat and your guide will meet you there.
When visiting Roma Street Parkland, please make sure you observe the guidelines set out by Queensland Health and do not attend if any of the below are applicable:
you or a member of your group are displaying COVID-19 symptoms - these include a cough, fever, sore throat, fatigue or shortness of breath, and feeling unwell.
you or a member of your group has tested positive for COVID-19.
you or a member of your group have been directed to self-isolate or self quarantine by Queensland Health.