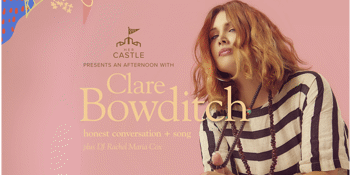 HerCastle and Babylon Newcastle
An Afternoon with Clare Bowditch
DJ Rachel Maria Cox
Babylon Newcastle (Newcastle, NSW)
Sunday, 8 March 2020 2:00 pm
You're invited to come and celebrate International Women's Day with HerCastle, Clare Bowditch and DJ Rachel Maria Cox at Babylon Newcastle - a beautiful 1920s inspired bar & restaurant in the heart of Newcastle.

Clare Bowditch is an ARIA Award Winner, Rolling Stone Woman of the Year and Logie Award nominee for her role as Rosanna on the popular TV show Offspring. She is a musician, broadcaster, sometimes actor, speaker, entrepreneur and just recently, she became a top-ten, best-selling author.
Clare is an effortless host and a deeply talented communicator who inspires people to live bravely and laugh often. Her "very special sauce" is a combination of generosity, irreverence and the ability to "keep it real".

Clare will present honest conversation and song; she will speak on her experiences as a mum, wife, daughter, sister, musician, keynote speaker, and author. She'll then perform some of her wonderful songs acoustically followed by Mel (Newcastle Live) hosting a Q + A with Clare about her life and her first book release 'Your Own Kind of Girl'.

It will be intimate, it will be honest, it will be entertaining, sometimes belly-laugh worthy funny and sometimes sad.

"Clare is one of those effortlessly mesmeric communicators. Her rare blend of insight and charisma means that people cannot help but be thoroughly engaged when she speaks. It will be a rare audience member that leaves being anything other than charmed and enlightened." – WALEED ALY
"When Clare speaks she brings everyone in the room with her. Clare injects this special kind of electricity into each and every audience member, making them feel bigger, bolder and braver." - JAMILA RIZVI, Author.
DJ Rachel Maria Cox
(Sad Grrls Club) will provide the tunes before and after Clare's performances. Rachel is Newcastle's favourite queer throwback pop DJ. Playing all your favourite songs from the nineties, noughties and now.
Each guest will receive a glass of bubbles on arrival.
Doors open: 2pm with bar + food service available
Clare Bowditch from 3pm - 4:30pm (approx) During this time only bar service is available
After the Q + A session, bar and food service will be available again
18+