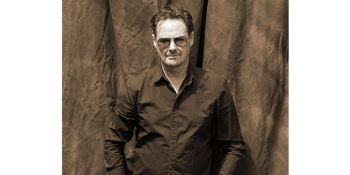 Neil Murray -"Blood & Longing" Album Launch
The Bridge Hotel, Castlemaine (Castlemaine, VIC)
Friday, 20 September 2019 9:00 PM
Founding member of the pioneering Warumpi Band and now a maverick songman in his own right, Neil Murray will launch his 9th original solo album -"Blood & Longing" onto the Castlemaine public at the Bridge Hotel on Sept 20.
With more than 35 years of performing and recording behind him, Neil is an influential and award winning songwriter who has made a substantial contribution to the nation's music heritage.
"Blood & Longing" offers 13 new tracks and was recorded and mixed by Roger Bergodaz, who is playing drums, along with Damien Neil ( guitar) and Craig Kelly (bass) with Neil at the Bridge Show. Rachel Taylor is also guesting on backing vocals.
The cover art of "Blood & Longing" and title to one of two singles is "Byjantic Man". The track was inspired by a sculpture of hand-forged iron bolts and wire by the artist Trevor Flinn, that stands in a paddock on Peter Redfearn's farm near Moulamein, NSW. The other single released is "Cry My Darling"- about the plight of the Darling River.
Of relevance to people in the Castlemaine district is the track "Dja Dja Wurrung, Dja Dja Wurrung" – which Neil originally wrote as part of Community Music Victoria's "Singing from Country" project in 2016.
Along with the new material, Neil has an extensive back catalogue of landmark songs –( My Island Home, Blackfella Whitefella, Good Light In Broome etc) - to draw from. As Midnight Oil's Jim Moginie says "Neil Murray sings from the heart of the country"
Don't miss one of Australia's most respected songmen in concert with his band on September 20 at the Bridge Hotel.