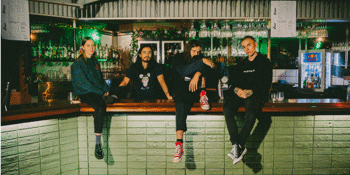 Raida Artists presents
Sputnik Sweetheart
with Tiarnie + Parklands
The Chippo Hotel (Chippendale, NSW)
Friday, 14 May 2021 8:00 pm
"Energetic, emotive and passionate, Sputnik Sweetheart bring their own blend of Alternative-Rock to the Australian Music Scene. The band have built a reputation for delivering hard hitting performances to sold out rooms across the country. 2019 saw the release of their debut EP 'Growing Pains', headlined by the anthemic breakout single 'Us Girls', a song that throws gender inequality into the spotlight with a passionate and frustrated voice. Fast forward (through the pandemic) and Sputnik Sweetheart are back with their latest release 'Jealousy'. Written from the perspective of the emotion itself, Sputnik give the audience a cathartic experience, whilst showcasing their darker side of song writing. Sputnik Sweetheart are heading on the road this May to bring 'Jealousy' to their fans. Tickets are extremely limited so jump on quick"
TICKETING INFO
Shows will be standing and limited to 70 due to social distancing measures
Artists to perform two separate sittings, 6:30pm & 9:30pm
Upstairs kitchen will be open and running a $15.00 burger + schooner of beer or cider deal for those who have purchased a ticket to the show
All customers entering the premise must sign-in by providing accurate contact details via the venue's QR code sign in registry at the entrance of the venue which is designed specifically for contact tracing if necessary.
The venue will be taking a number of precautionary measures to ensure patron safety, including:
Hand sanitiser dispensers on entry and through venue
Signage and social distancing markers throughout the venue
Regular sanitising of the venue and full clean between sittings