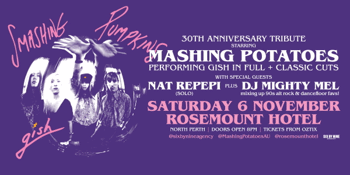 Six By Nine Agency presents
MASHING POTATOES | SMASHING PUMPKINS "GISH" 30th Anniversary Tribute
with special guests NAT RIPEPI (Solo) & DJ MIGHTY MEL
Rosemount Hotel (North Perth, WA)
Saturday, 6 November 2021 8:00 pm
With its simultaneously childlike and ferocious debut album, gish (Caroline Records), the Chicago-based hard-soft psychedelia foursome Smashing Pumpkins exploded onto the 1991 indie-rock landscape with all the messy orange furor of its namesake (Andy Greene. 28 May 2021: www.rollingstone.com )

First there's the music, which veers back and forth between huge, steely guitar constructions, not unlike Soundgarden plus Hendrix plus Zep plus Jane's Addiction, and soft-focus moments not unlike a stoned Saturday afternoon in bed with someone you love, their cat, and some dust motes filtering through the sunbeams. (Spin 1991: www.spin.com/featured/smashing-pumpkins-gish-review-1991 )

WA's only dedicated SMASHING PUMPKINS tribute band MASHING POTATOES celebrate the 30th ANNIVERSARY of the Chicago quartets legendary debut album "GISH" at the ROSEMOUNT HOTEL in NORTH PERTH on SATURDAY 6 NOVEMBER 2021, performing the album in full and a set of classic cuts.

Joining in on a night of nostalgia will be special guests NAT RIPEPI (SOLO) and DJ MIGHTY MEL mixing up 90s alternative rock & dancefloor favs!
Before Nevermind, Ten, Badmotorfinger, or Dirt, there was Gish. And while it may be a stretch to say that Smashing Pumpkins' 1991 debut LP was the first album of the alternative rock revolution (Jane's Addiction, Pixies, Nirvana, and Mudhoney might have something to say about that), it was an enormous landmark
(Andy Greene. 28 May 2021: www.rollingstone.com )

"You can see every crack in your persona. It was like looking inside yourself. Sometimes I listen to the record, and I just want to cry." | Billy Corgan: 1991

SMASHING PUMPKINS "GISH"
30th Anniversary Tribute
starring
MASHING POTATOES
performing SMASHING PUMPKINS "GISH" IN FULL + CLASSIC CUTS
with special guests
NAT RIPEPI (SOLO) & DJ MIGHTY MEL mixing up 90s alternative rock & dancefloor favs!

JOIN THE EVENT PAGE: CLICK HERE
For all MASHING POTATOES info and show dates visit:
www.facebook.com/MashingPotatoesAU