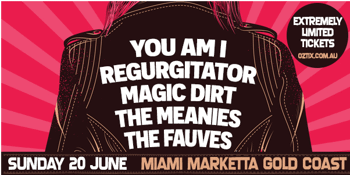 East West Presents
You Am I + Regurgitator + Magic Dirt - SOLD OUT - SIGN UP TO THE WAITLIST
with The Meanies + The Fauves
Miami Marketta, Gold Coast (Miami, QLD)
Sunday, 20 June 2021 2:00 pm
Springloaded Festival at Sandstone Point Brisbane
Saturday 19th June 2021
FINAL TICKETS ON SALE NOW - CLICK HERE

GRINSPOON, YOU AM I REGURUGITATOR
Frenzal Rhomb, Magic Dirt, The Fauves
The Meanies, Screamfeeder, with MC Lindsay "The Doctor" McDougall
/ / / / / / / / / / / / / / / / / / / /


You Am I

,

Regurgitator

,

Magic Dirt

,

The Meanies

and

The Fauves

, at Miami Marketta, Gold Coast - Sunday 20 June
PLAYING TIMES
Doors 2pm
2.20pm THE FAUVES
3.20pm THE MEANIES
4.20pm REGURGITATOR
5.40pm MAGIC DIRT
7.00pm YOU AM I
- - - - - - - - - - - - - - - - - - -

YOU AM I


After more than 25 years, three consecutive #1 records, 10 studio albums, 10 ARIA awards, two live albums (one a 3LP boxset), two "best of" albums, somewhere near 4000 shows worldwide, including every festival known to man and having had the opportunity to play with heroes like The Rolling Stones, The Replacements and The Who, You Am I are well… national treasures. Their most latest effort, and 11th studio album 'The Lives of Others' will be released in May 2021!



REGURGITATOR
Formed in Brisbane like an effervescent reaction by core elements Quan Yeomans and Ben Ely, Regurgitator played their first show March 1994 (with Peter Kostic joining the fray late '99) and went on to release 9 studio albums, celebrating their 25th anniversary in 2019 with a sold out Quarter Pounder national tour, along with a Warner released best of album under the same name. The 3-piece first gained some kind of relative acclaim with the release of their second album UNIT in 1997 featuring the tunes 'Polyester Girl' and '! (The Song Formerly Known As)', and 2011 the album found itself 10th place in Triple J's Hottest 100 Australian Albums of All Time race. Their more recent album HEADROXX was released in mid-2018. The band are brimming mainstays in an ever burgeoning Australian music scene, continuing to manifest exuberance, mania and their mashedup motion of rock, punk, electro, funk, pop, and whereever it goes vibe.



MAGIC DIRT


Led by Adalita, and bursting out of Geelong in 1991, the fuzz-drenched noise unit Magic Dirt has received nine ARIA Music Award nominations including four at the ARIA Music Awards of 1995 for Life Was Better – their second extended play.


Magic Dirt's third album 'What Are Rock Stars Doing Today', spawned singles such as "Pace It" and triple j favourite "Dirty Jeans' and the record recently had a re-release to celebrate 20 years!





THE MEANIES




The Meanies

are renowned as one of Australia's most influential punk bands and can't wait to get back to the Gold Coast to r

celebrate 30 years of recklessness, broken bones, excessive boozing and busted eardrums.


It was May 1989 when The Meanies first moved their music out of their rehearsal space and onto the stage, and fast became notorious as the most unruly and savage punk act the country had seen. Countless live shows saw the band cultivate a formidable local following and play with a veritable stack of international heavyweights, like Nirvana, Pearl Jam, Bad Brains and Beastie Boys, to name a few.


Five years later and 10% Weird belted through the punk-rock stratosphere and into the laps of punk fans across the country - the LP has long been regarded as the band's magnum opus, an album symbolic of Melbourne's chaotic beer-drenched punk-rock scene of the time and a record cited by countless bands as a major influence.



THE FAUVES


The Fauves are an Australian rock band formed in 1988 - known for their witty lyrics, melodic pop-rock and often satirical or evocative exploration of Australian themes.
Their album Future Spa yielded considerable radio success with singles "Dogs Are The Best People" and "Self Abuser". They released their 12th album Driveway Heart Attack in 2019. Now into their 33rd year, they continue to serve themselves up on the chopping block of popular culture.