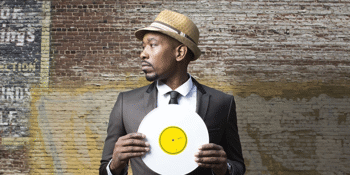 Square One Presents:
Anthony David (USA) + Tony Rich Project
Royal Hotel Queanbeyan (RHQ) (Queanbeyan, NSW)
Sunday, 2 June 2019 6:00 pm
---
DINNER & SHOW PACKAGES
---
Doors open from 6pm | service commences at 630pm

Dinner & Show packages include entry and a two course meal (Entrée & Main), alternate serve.
Please note: this show will have allocated seating for Dinner&Show tickets, with General Admission with limited seating. Dinner&show tables cannot be joined together on the evening. Each below purchase option will allow you to buy one whole table. Tables may be place together to suit numbers. If you require more than one table per purchase please call our customer service team on 1300 762 545.
Special Needs Booking Information
For special needs bookings (including specific dietary requirements) please contact the venue directly on (02) 6297 1444.
Online Ticket Availability
Dinner & Show sales close at 12pm on the day prior to the event.
Show Only sales are available up until 4pm the day of the event. Door Sales are subject to availability
Tony Rich and Anthony David will unite for 2 co-headlining shows in June. For the first time ever these Grammy nominated singer-songwriters team up for a show that promises to showcase their undisputed talents.

Tony Rich of 'The Tony Rich Project', is best known for his hit single 'Nobody Knows'. The singer, songwriter, guitarist, keyboardist and record producer, is a major talent, having won his first Grammy Award for his debut album 'Words'
(Best R&B Album). In addition, the album's lead single 'Nobody Knows' and the second single 'Like A Woman' from the same album both received nominations as well as a nomination for Best New Artist. He has released six albums. His latest album entitled, 'Encaustic'. The Tony Rich Project is known for mixing elements of folk, jazz, rock and soul music into tracks.
In addition to his success as a singer, Tony Rich is an accomplished songwriter having authored hits for artists including Boyz II Men, Elton John, Michael Bolton and Toni Braxton, amongst many others, resulting in his contribution to well over 50 million records sold. As a touring performer, he has shared the stage with the likes of Prince, Sting, Tina Turner, Stevie Wonder, Peter Gabriel and Sheryl Crow, just to name a few. He has a worldwide loyal fan base in the US, Japan, the UK, South Africa, New Zealand and more.

Anthony David is a Grammy nominated singer/songwriter out of Atlanta. A Gulf War vet, he began writing songs while in the military in Iraq. He got involved in the music scene in Atlanta in the late 90s, meeting a then-unknown India.Arie; they became friends and collaborators, with Anthony co-writing songs on her first three albums (which spawned a number of Grammy nominations) singing back-up and eventually opening for her. This visibility led to the release of his debut 'Three Chords & The Truth' in 2004. Extensive touring revealed Anthony to be a free-wheeling, engaging performer, able to hold a crowd with just the sound of his voice and an acoustic guitar. A second indy album, 'The Red Clay Chronicles', led to a deal with Universal , which released 'Acey Duecy', a compilation of his first two albums, yielding a hit duet with India.Arie and a Grammy nomination. Thanks to the release of his albums by labels in the UK and Japan, Anthony toured extensively abroad, building an international audience. His star continued to rise with the release of 'As Above, So Below' in 2011, which featured guest vocalists Algebra, Phone ofLittle Brother and Shawn Stockman of Boyz II Men; his duet with Algebra,"4Evermore," became a #1 hit at adult urban radio while the reggae/Latin-tinged 'Body Language' tore up dance floors in the UK. He quickly followed the release of 'As Above' with 'Love Out Loud' in 2012. Signing with Shanachie in 2015, he released 'The PowerFUL Now'. His 2018 album 'Hello Like Before' is the album David's fans have been waiting for – heartfelt, expressive interpretations of both famous and lesser-known Bill Withers songs. Produced by Eddie "Gypsy" Stokes, the album captures the essence of Withers' genius through Anthony's contemporary spin.

Anthony David Videos
BOO'Ed UP (NEW SINGLE) https://www.youtube.com/watch?v=GmsosnZSw_I
4EVERMORE https://www.youtube.com/watch?v=zQDcJBrLcNQ
WORDS https://www.youtube.com/watch?v=d6QYoJRZPvM

Tony Rich Videos
Nobody Knows https://www.youtube.com/watch?v=W7EyUY3-Wrg
Like a woman https://www.youtube.com/watch?v=MQ37xWJ6tO4
when I'm broken https://www.youtube.com/watch?v=wJhLwUo3dPQ