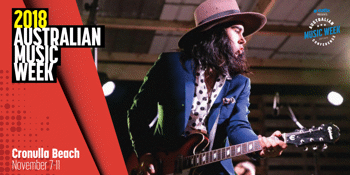 Australian Music Week 2018
Various Venues Cronulla (Cronulla, NSW)
Wednesday, 7 November 2018 9:00 am
Welcome to Australia's most accessible, grassroots music industry conference.

150 Live Showcases | 20+ Panels & Masterclasses | 4 Conferences In One | Music Film Festival

Every November Australian Music Week brings together artists and industry professionals at the forefront of the grassroots music scene for 3 days and nights of real music discovery, relevant industry discourse and good times with damn good people.

Showcasing more than 150 artists, Australian Music Week boasts genuine music discovery across an incredibly diverse cross-section of Australian and international music, from indie pop, electronica, heavy, rock and blues through to folk, americana and country.

As well as presenting more than 20 of its own panels and masterclasses unpacking the latest industry issues with leading Australian and international experts, Australian Music Week also plays host to the official annual Folk, Americana and Country Music Conferences.

We are stoked to bring back Australia's only dedicated Music Film Festival, which showcases the best in music related film 10-11 November.

(Real Music Discovery + Relevant Industry Discourse) x Damn Good People = Damned Good Business.

Join Us.

Please note: The Australian Music Week conference is all ages, however while some of the live showcase venues are all ages, most will be 18+.