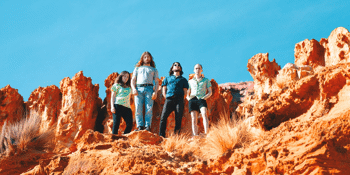 Collective Artists presents
POSTPONED - Husky
with Special Guests
Waywards (The Bank Hotel) (Newtown, NSW)
Saturday, 2 May 2020 8:00 pm
With the release of new song CUT MYSELF LOOSE comes the news that globally loved Husky are back and will be performing two headline shows across Melbourne and Sydney, previewing new songs from their new album STARDUST BLUES, out June 12.

CUT MYSELF LOOSE showcases Husky Gawenda's flawless vocal that rolls effortlessly across Gideon Preiss's signature haunting piano. This is a song about traveling, it has momentum. It's about letting go of what's lost to make way for the new and reaching out for the never quite reachable moment.

Inspired by James Joyce's Ulysses, Husky Gawenda's nocturnal ramblings and the band's love of making music together, the songs on STARDUST BLUES form a narrative that follows a character for 24 hours on his personal odyssey throughout Melbourne as well as his internal and external search for meaning, in which he encounters friends, lovers past and present, memories and dreams, and the day to day struggles and beauty of being a human in 2019.

Husky have released three critically acclaimed albums, scored worldwide play-listing and radio, plus toured locally and internationally with artists such as Neil Young, The Shins and Sharon Van Etten. This upcoming album is the band's favourite to date.