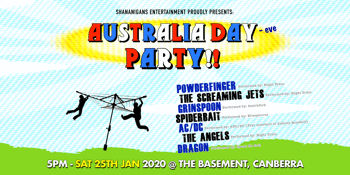 Shananigans Entertainment
Australia Day-eve Party!!
The Basement - Canberra (Belconnen, ACT)
Saturday, 25 January 2020 5:00 PM
Shananigans Entertainment is proud to present:

The AUSTRALIA DAY-EVE PARTY!!

5pm Saturday 25th January 2020!!
Featuring 7 amazing bands as they pay tribute to 7 of Australia's biggest bands, including:

POWDERFINGER + THE SCREAMING JETS + GRINSPOON +
AC/DC + SPIDERBAIT + THE ANGELS + DRAGON

What: Aus Day-eve Party!
Where: The Basement, Canberra
Address: 2 Cohen St, Belconnen
When: Sat 25th January 2020
Doors: 5pm

Chompys @ The Basement also has all your food needs sorted, so come along and enjoy some cold drinks, tasty food and great live music!!

Please Note: The Midnight Oil band has had to pull out of the show. There are still 7 amazing acts, so come along and enjoy the show!