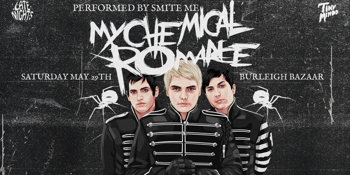 Tiny Minds Agency
My Chemical Romance - Tribute Show
TBA
Burleigh Bazaar, Gold Coast (Burleigh Heads, QLD)
Saturday, 29 May 2021 6:00 pm
When i was a young boy, my father took me into the city, to see a My Chemical Romance cover band.

Give em Hell GC! After 2 Sell Out Shows at Vinnies Dive for Late Night, GC legends 'Smite Me' are back playing a full 1 hour set of My Chemical Romance hits.

I'm Not Ok, Welcome to the Black Parade, TEENAGERS, HELENA!!!! Plus a few fan favourites.

Special Guests Announced Soon!