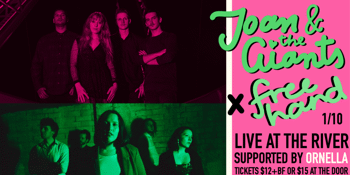 JOAN & THE GIANTS / FREEHAND
with special guests
The River (Margaret River, WA)
Friday, 1 October 2021 7:00 PM
Support Joan & The Giants and Freehand in Margaret River as they celebrate their new releases.
JOAN & THE GIANTS
Joan & The Giants are an alternative pop band whose emotionally raw, fierce and powerful music and captivating live performance has placed them as one of the most exciting bands in the Western Australian music scene.
They formed in late February 2019, and have thus far released six singles. Some of their career highlights include headlining Shinju Matsuri Festival to 7,500 people, being nominated for a Western Australian music award, supporting Odette on the WA leg of her 2019 'Lotus Eaters' tour, receiving raving reviews and airplay on Triple J, and most recently performing a night time slot on the amphitheatre stage at Nannup Music Festival. The band are currently working on their EP set for release later this year.
FREEHAND
Freehand is an energetic and uplifting 8-piece soul outfit based in Perth Hills, Western Australia. Brought to life by singer/songwriter Gem Addison, the collection of creative songwriters and composers bring audiences to their feet through elements of pop and neo-soul, colourful harmonies, and a unique warm stage presence.
After a highlight performance before 10,000 climate strikers in 2019, Freehand's earnest and dynamic set has been steadily gaining momentum in Perth's scene. The group has an eye and passion for community, and will unequivocally bring you home with a smile.