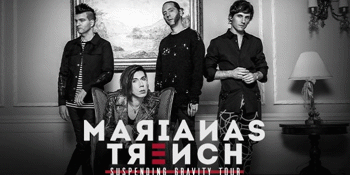 Live Nation presents
Marianas Trench
with Shorelines
The Zoo (Fortitude Valley, QLD)
Sunday, 18 September 2022 6:30 pm
THIS EVENT ON THURS 11/11/2021 HAS BEEN RESCHEDULED TO SUNDAY 18/09/2022.

Due to recent announcements by the Australian Government, MARIANAS TRENCH have rescheduled this show to Sunday 18th September at The Zoo, Brisbane
Existing tickets remain valid for the rescheduled shows without the need for exchange.
Patrons unable or unwilling to attend the new dates can obtain a refund from the point of purchase.
Oztix will contact all ticket holders via email with information regarding the refund process.For any questions relating to your ticket purchase, please contact your original point of purchase.
Thanks for understanding!
Canadian pop-rockers MARIANAS TRENCH will make a very welcome return to Australia's east coast for a trio of explosive shows in April 2020 in support of their latest album release and iTunes Pop chart #1, Phantoms.
Completing epic treks across North America, UK and Europe, the Suspending Gravity Tour will touch down in Brisbane on April 2 before heading south to Melbourne's Corner Hotel on April 3 and onto Sydney's Metro Theatre on April 5, ahead of performances at Download UK in June.
Tickets will go on sale on Tuesday, December 11, at 12pm.
My Live Nation members can be among the first to secure tickets during the pre-sale beginning at 11am Monday, December 9.
VIP Packages are also available including access to a special Q&A session and Meet & Greet with the band.
For complete tour, ticket and VIP Experience information, visit:
livenation.com.au
.
Hitting #1 on iTunes Pop chart here and in the USA, as well as their native Canada, Phantoms is Marianas Trench's fifth studio album following their 2006 debut Fix Me, Masterpiece Theatre (2009), Ever After (2011) and Astoria (2015).
Marianas Trench draw on well-established strengths – their trademark, heavily layered harmonies, as well as blazing guitars set against club-worthy beats - but Phantoms also finds the Vancouver-based four-piece pushing their musical boundaries relentlessly. From the jaw-dropping opener, 'Eleonora' – a heavily layered a cappella salute to Edgar Allan Poe's 1842 short story of the same name – to the unapologetically epic closer, 'The Killing Kind', with its deep orchestration, ripping guitars and vocal gymnastics.
"Each time we do an album, I try and write something that's out of my vocal reach that forces me to get better," says founding member and frontman Josh Ramsay, adding that bassist Mike Ayley, guitarist Matt Webb and drummer Ian Casselman, his "three favourite collaborators," are equally dedicated to pushing their limits vocally and instrumentally - making for a dynamic live show.
VIP Nation Experience Terms and Conditions:
Please ensure the contact details you provided at point of purchase are up to date. These will be the details used to communicate all VIP experience information.
Check-in location and time information will be emailed out by VIP Nation approximately 7 days prior to show day.
If you have not received this 5 days before the show please contact us immediately at VIP@livenation.com.au
Proof of purchase (confirmation email) will be required in order to check-in and receive your package benefits.
Experience details subject to change without notice. • NO REFUNDS will be given under any circumstances except in the case of concert/entire program cancellation.
If applicable, Early Entry refers to first access onto the floor, there is no sectioned off area.
If applicable, merchandise item/s will be available for pick-up the night of the show.
If applicable, laminate is commemorative only and does not gain or authorise access into the venue or backstage areas.
Any enquiries about your package can be directed to: info@VIPNation.com.au