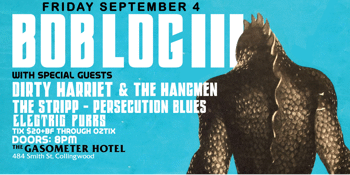 Bob Log III at The Gaso!
The Stripp, Dirty Harriet and the Hangmen, Persecution Blues and Electric Purrs
Gasometer Bandroom (Collingwood, VIC)
Friday, 24 September 2021 8:00 pm
BOB LOG III
It's all true! One Man Guitar Party Dance Boom Mess! World wide slide guitar with huge beats, boats, ducks and balloons . No one is ever the same again after a Bob Log show. Dance pants and an ambulance!

Joined by The Stripp for their first show back with new lineup along with Persecution Blues, Dirty Harriet and the Hangmen and Electric Purrs!