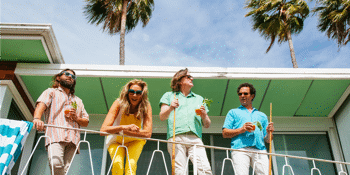 Code One
The Soul Movers + Leadfinger
The Heritage Hotel, Bulli (Bulli, NSW)
Saturday, 13 November 2021 6:30 pm
The Soul Movers are STOKED to return to the fabulous Heritage Bulli stage for an EXPLOSIVE night of rock, soul, pop and blues to put the dyno-mite back in your Saturday Night! Joined by local legends Leadfinger - now out and about with their very own spicy new sounds so that's not one, but TWO fresh new albums to delight your ears and move your body and souls to.

Grab your tickets now to take a ride through the grooviest sounds of the 1960s and 70′s with much-loved ex-Red Wiggle, Murray Cook, and partner-in-crime Lizzie Mack. They'll take you through hits recorded across Sun and Fame, Royal and Muscle Shoals studios then it's time to hit the dance floor with new tunes from their spicy new album "Evolution" recorded with Garth Porter and Tony Mitchell from Aussie super-group Sherbet!

You'll be sighing, grooving, swooning and movin' all night long! Plan ahead and get your mates on the job for the ultimate rockin' live music night out and a great start to the silly season!