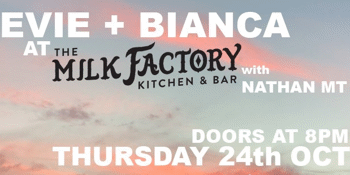 Evie & Bianca
with Nathan MT
The Milk Factory (South Brisbane, QLD)
Thursday, 24 October 2019 8:00 PM
Brisbane Artists EVIE and BIANCA team up for a one-night-show at The Milk Factory. With special guest Nathan MT, this will be a night not to be missed!

EVIE
Indie-pop musician 'EVIE' has been showing up on local slots around Brisbane, captivating audiences with soaring vocals and eloquent songwriting. With her own take on pop and alternative music, EVIE stretches the boundaries of genre and rewrites her sprightly experiences to a collection of impactful melodies and chiming guitars lines.

With the release of her single 'For You I Would', EVIE demonstrates the power of songwriting in a heart-wrenching and divinely inspiring debut.

BIANCA POWER
Ambient textures and RnB grooves collide with sultry and soulful vocals in the sounds of rising Brisbane singer-songwriter Bianca Power. There is a rawness and vulnerability in her bold lyrics that is bound to leave you inspired and wanting more. Following the intimate showcases of her unique sound throughout 2019, Bianca continues to generate buzz as fans anticipate the release of her debut single.

NATHAN MT
Blending folk and indie pop sensibilities to create his own brand of singer-songwriter bliss is Nathan MT, a looping and percussive guitar playing multi-instrumentalist out of Brisbane.