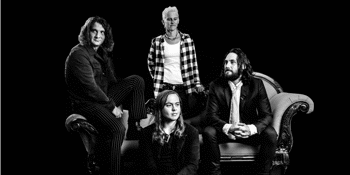 End Of Fashion - Single Launch
with special guests Moana plus Sugar Blue Burlesque
Saturday, 29 August 2020 8:00 pm
Only took 8 years...but here we are!
End Of Fashion are officially back and mean business with their new single titled 'BreakThru', an epic 70's dark fantasy-feel anthem with elements inspired by bands like Queen, the WHO and Dust. This single follows the band's debut album sound and works around the classic 'O Yeah', 'The Game' & 'Fussy' feel that the band's fans know and love.
From mid last year through to the start of this year saw the band testing out new music and playing a range of shows from their first Vinyl Launch in November to headlining the Highway To Hell in March. It's been a pleasant surprise seeing not only the band's original fans but new ones popping up at shows too!
End Of Fashion didn't want their single launch to just be a regular, two/three band lineup and then go home kinda night. No. The 'BreakThru' single launch will be an event! Not only will we be breaking in a new single (mind the pun), but we will be celebrating the incredible career of End Of Fashion, helping us do that will be a set from local legends MOANA and plenty of Sugar Blue Burlesque throughout the night!