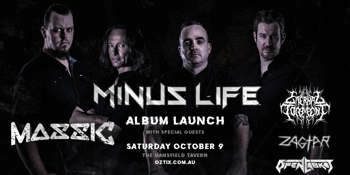 MINUS LIFE Album Launch 2021
Mansfield Tavern (Mansfield, QLD)
Saturday, 9 October 2021 3:30 PM
MINUS LIFE
formed in 2002 with the common purpose to create a brand of extreme music, that funneled the essence of their influences, but had its own unique sound. The band quickly rose to become one of the biggest metal bands out of Brisbane touring nationally.
After an eleven-year hiatus, MINUS LIFE returned to the live scene with sold out shows and delivered a devastating set at Brisbane's premier heavy festival - Dead of Winter. MINUS LIFE cemented their place in the Australian heavy music scene with Eternal Urban Megacide and single release Manipulation of the Masses. In 2021 MINUS LIFE return to the stage with a NEW ALBUM and hungry to deliver a crushing new performance. Featuring material from their forthcoming album, the time has come for the new incarnation of MINUS LIFE to rise once more.
Joining MINUS LIFE will be an all-star Queensland grown line up of MASSIC,
Eternal Torment, Zagtar & Open Casket making this show something that no metal fan should miss!